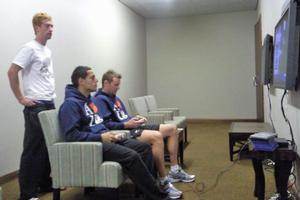 8/6/2010
Serengeti golf and wildlife estate
Johannesburg, South Africa
Words can't describe this place, but here goes. The first one that comes to mind is amazing. From the moment you enter the complex through the security gates you see a beautiful golf course on one side and million dollar houses on the other. The bus dropped us at 'Kiwi corner' a cul-de-sac with five houses, or should I say mansions.
The majority of the team, besides maybe Ryan Nelsen and Chris Killen, would have never set foot in a pad like this, let alone live in one. Massive two story buildings with numerous lounge rooms, TVs, internet and sound systems. Four or five huge bedrooms all with ensuites. I even have an outdoor shower. (I'm not sure why a public nudity theme has followed me on this tour.)
Each house has golf carts that we use for the short journey up to the club house for meals, meetings etc. Just be careful who you let drive. I won't be jumping onboard with David 'Schumacher' Mulligan again.
The club house oozes class. Meal and function rooms, a gym, cafe and a golf shop. There is a great spot for a coffee on the top deck looking over the course.
We have a few keen golfers in our squad who I know must be itching to have a swing. It's business time though and we'll be too busy on the training pitch for Tony 'Tiger' Lochhead and Jim 'the Shark' Bannatyne to work on their handicap.
The idea was to create a home-away-from-home, but this is a heaven away from home!
Rooney and Ronaldo can have their hotels.
MOSSY