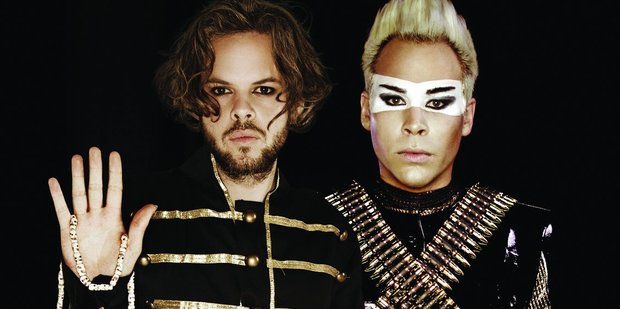 Empire of the Sun are set to headline this year's Rhythm & Vines New Year's festival.
The line-up for their 11th New Years festival was announced this evening, and it's looking like 2013 is going to be the year of the Aussies, with a few rising British stars thrown in for good measure and, of course, a bunch of Kiwi favourites.
The festival runs from December 29 to 31 at Waiohika estate in Gisborne.
Tickets are on sale now through www.rhythmandvines.co.nz.
THE LINE-UP
Empire Of The Sun
The Aussie electronic duo proved a trippy way to count down to the New Year back in 2009, with their colourful, future-tribal costumes and hits like Walking On A Dream, and now they're back again, with a new album - Ice on the Dune - and even more fantastical lights and costumes.
Hermitude
This Aussie hip-hop duo out of the Blue Mountains are pushing genre boundaries with futuristic beats and electronica, and have already won several awards for their 2012 album HyperParadise.
Chet Faker
Sometimes called Australia's version of James Blake, insomuch as he's got a great voice, keyboard skills and a love of electronic trickery. But this Melburnian (real name Nick Murphy) has a swinging soul-roots sound too, among his jazz and hip-hop influences.
Flux Pavilion
Real name Joshua Steele, this 24-year-old Brit DJ has become something of a new dubstep hero, with his hit track I Can't Stop having more than 34 million spins on YouTube. He was shortlisted for the BBC Sound of 2012, plus Kanye and Jay-Z sampled him on Watch The Throne, so he must be doing something right.
Julio Bashmore
Emerging out of Bristol as a producer for Jessie Ware, the young DJ has become a firm festival favourite, earning a reputation as a mysterious-yet-accomplished alternative to dance superstars like David Guetta.
Dusky
This London-based house and techno duo are sought-after remix artists and dance floor-fillers who like to connect the dots between vintage techno and modern innovation.
Rustie
30-year-old Scottish dance maximalist Russell Whyte creates the kind of crazy, playful music where anything can turn up. 80s pop, hip hop, the Seinfeld theme, some happy hardcore - it all gets thrown into the blender and spun out like a dayglo flashback.
Hospitality
UK drum and dubstep record label Hospital Records will be bringing over an as-of-yet unconfirmed selection of artists they represent, which include Netsky, London Elektricity, and High Contrast.
Soul Clap
This Boston DJ duo have their tongues in their cheeks, but are also entirely serious about partying to soul records. Cool.
Shapeshifter
These golden local lads could easily host their own New Year's party, such is their ability to fill a venue, but without Coromandel Gold to book them up this year, they're returning to R'n'V for the first time since 2007, and with a whole album of new songs to rain down on the crowd, you can expect a massive, pulsating, chest-pounding set.
The Phoenix Foundation
Sounding more expansive and classic than ever with their latest album Fandango, these festival favourites will surely continue to entertain with their dry humour, obsession with cricket, and jaunty melodies.
David Dallas
He's such a nonchalantly accomplished hip-hop star that he barely has to mention the possibility of an upcoming new album, and he sets social media alight. It will be a welcome return for Dallas, who last performed in the vines in 2011.
@Peace
These guys were such an impressive live force at Splore in 2012, they had the whole crowd chanting "f*** John Key" to an easy groove in no time, and singing along to their classic Kiwi anthem Home. Undoubtedly they'll have all the R'n'V punters doing the same.
P Money
He's something of a Rhythm and Vines veteran, so P Money should be punching out a classic set of tunes this year, particularly with the recent release of his old school hip hop album Gratitude.
Concord Dawn
Matt Harvey is rocking Concord Dawn as a one man band these days - though it's a deep, intensive, electronic, drum n bass experience, rather than a band if you want to be specific. He's all about authenticity and original drum n bass sounds though, as his 2012 album Air Chrysalis demonstrates.
Tahuna Breaks
Don't be misled by past genre definitions, Tahuna Breaks are more than a reggae band. Their latest album Shadow Light, produced by UK dance veterans Crazy P, is all about the soul and funk, and of course those smooth moves.
- TimeOut