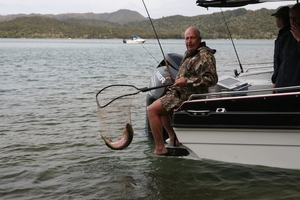 Kingfish are providing some of the best fishing action, with fish turning up in good numbers in the Bay of Plenty from White Island to the Mercury group, and are also present in large numbers off Little Barrier Island and the Leigh Reef, where trevally and kahawai are also prolific.
Kingfish hot-spots closer to Auckland include the Pakatoa Reef where the most action is just off the end of the reef around the Noises and Maria Rock, off Park Pt and Crusoe Rock.
Gurnard are being caught in good numbers on the sand off Pakiri Beach.
At Great Barrier Island, though, fishing is reported to be harder.
The large schools of snapper which have been congregating further out in the Hauraki Gulf, north of Tititiri Matangi Island and Waiheke Island, have been in the area since September and have moved little.
However, some have shifted to the west where they can be found off the southwest corner of Motuora Island in 27m of water.
The work-ups involving birds and dolphins are still evident but they do not always hold fish underneath, and patience and plenty of berley is sometimes needed. But the snapper caught are in good condition and usually run up to 6kg. Traditional bait seems to be more consistent than lures or softbaits.
In the Firth of Thames some great fishing can be found out in deep water using fresh yellowtails for bait, rigged whole on two gang hooks with the head removed to allow blood and juices to leak out.
Freshwater
The Department of Conservation has become aware that some electronic fishing lures are being used in Lake Taupo to catch trout and want anglers to know that using such lures is prohibited. These lures come in a variety of colours and resemble a flatfish-style wobbling lure. On the underside is a small stainless steel canister about 10mm long which contains a microchip crystal and a small metal ball which rolls around inside. As the ball strikes the microchip crystal it produces a tiny electric impulse which duplicates the nerve discharge of a wounded baitfish.
DoC does not have an issue with the lures themselves but only with the small chips attached underneath which contravenes regulations that "a person must not use for the purpose of taking trout any fish-attracting electronic device". In many instances the same chip is also attached to flasher plates and the use of these flasher plates with the chip also breaches this section of the Taupo fishery regulations.
A review of the Taupo fishery and the regulations is expected to recommend changes to make the regulations more user-friendly and more in line with Fish and Game rules.
Such a review will look into new types of lures and methods of fishing and is timely given the rapid development of fishing equipment.
Such electronic devices are allowed in the Rotorua fishery, which is administered by Eastern Region Fish and Game.
A free boat fishing demonstration for beginners will be held at Stoney Point, Lake Tarawera, this morning from 10am. It is free and all are welcome, says Rotorua fishery officer Mark Sheburn. The demonstration will look at the lifecycle and habitat of trout and their food, different fishing methods, and cleaning and smoking trout.
Bite times
Bite times today are 6.50am and 7.15pm, and tomorrow 7.40am and 8.10pm.
Tip of the week
Always position the boat so wind and tide are running the same way, and the boat will lie straight in the current.

*More fishing action can be found tonight on Rheem Outdoors with Geoff, at 5pm TV3.