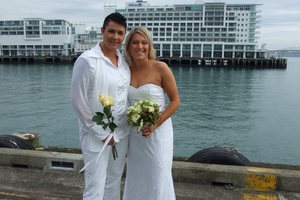 A slice of gay New Zealand history goes up for auction this morning.
The dress worn in New Zealand's first same-sex marriage is being offered for sale, and the proceeds will go to Rainbow Youth, a support group for adolescent gays.
Tash Vitali told the Herald on Sunday the couple agreed on the day of the wedding that the Sera Lily dress worn by Melissa Ray should go to a good cause.
"In the car driving home, we were talking about friends with kids that just get crap. It's tough enough for adults to deal with but it's 10 times harder when you're a kid.
"I said, 'how about we auction the dress and give the money to Rainbow Youth?' We were initially worried that Sera Lily would be offended, but she's told us to go for it."
Vitali, 37, and Ray, 29, chose the material and matched it to a Sera Lily design as part of a ZM radio prize package for the wedding.
It's a size 12 to 14 and has been handwashed since the ceremony.
The wife-and-wife have spent the past week getting back to work routines and will leave in two weeks for a honeymoon in Fiji.
Vitali said the wedding had been confirmed as the first of the many that took place on Monday.
"It's definitely been a ride," she said. "It's pretty cool to be representing the gay community in such a positive way. It's been real buzzy but I don't know how much longer I can cope with being in the public eye."
Vitali said she hoped the dress, worth about $2500, would fetch at least $500 for Rainbow Youth.