You don't need heaps of room to make a go of gardening, writes Meg Liptrot.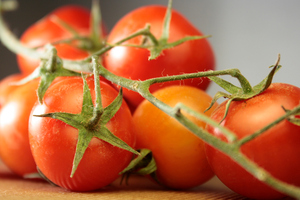 While visiting friends who have a small and elegant garden I was surprised to be shown a veritable feast hidden out of sight, squeezed between their studio and the fence.
Viky, an artist, is known for her eccentric 1920s "Bloomsbury set" style and her atmospheric home features velvet couches, muted colours, and striking oil paintings.
Her garden is just as considered. There's a small lawn shaded by a silk tree, a marble statue, ivy and hydrangeas. Not really the kind of garden to go digging a potato patch in, given it's not much larger than a couple of table-tennis tables joined together.
Hidden beside the studio on the northwest-facing boundary, with just enough space to walk along, all allusions to style could be swept aside. Here, Viky had set-up a long row of fish bins on stacked bricks growing luscious tomatoes and basil down the length of the building. The heat and light reflect nicely to provide perfect growing conditions. Viky also has a rainwater tank to provide chlorine-free water for her plants.
The couple also enjoy their own supply of sun-ripened tomatoes and basil to go with mozzarella.
It seems the edible gardening bug has bitten well and truly. Viky tells me that dwarf citrus have replaced the hydrangeas now. She thinks that if she's going to use her precious rainwater it should be for productive plants.
It is amazing what you can grow in small spaces if you set your mind to it.
Drill some drainage holes in your container of choice, fill with an organic vege garden mix combined with some soil, then you're away. Container planting is an efficient way to grow food if you take regular care of your crop.
If you're going away on holiday, be prepared for a sorry sight when you return home unless you've hooked an irrigation system with dripper lines to your containers, set to a timer.
Plants which take space in a garden are the ramblers such as pumpkins and cucumbers. But both will happily grow upwards instead of outwards. Cucumbers will grow up chicken wire, their fruits hanging out of reach of slugs and free of dirt. Pumpkins will also grow up supported mesh when they're young, but the fruit will become heavy, so train the vines towards a garden-shed roof.
A clever idea I've seen is to grow pumpkins up a ladder with platform steps for the pumpkins to rest on. You could do the same by screwing little stepped shelves with angle brackets into an existing sturdy fence - once the pumpkins are harvested, secure pots to the shelves instead and grow hardy herbs such as thyme.
Vertical gardening is gaining in popularity as most of the world's population live in cities and suburbs and may have very little space to grow food.
New and clever vertical gardening systems are coming on the market, some with geotextile fabric pocket systems with internal irrigation.
Internationally, green walls are becoming more popular in cities, and improve the atmosphere in all senses of the word. Commercial green walls are also popping up throughout New Zealand, encouraged by companies including Natural Habitats, Inscape, Greenair, and Vertical Plantscapes. They rarely feature edibles, although there's no real reason why they shouldn't.
Perhaps it's because the new green feature wall at the office might look a bit motheaten after staff have picked a salad for lunch.
Vertical DIY
* A fascinating DIY exhibit from Green Urban Living featured salad greens growing in suspended gutters and an aquaponic system hooked up to a goldfish tank.
* Vertical gardening systems can also be cheaply made by reusing old wooden pallets lined with polyprop weed mat, or a geotextile felt to retain moisture. Fill with a good quality organic potting mix, and a rock dust-based fertiliser to ensure the plants receive necessary minerals.
* Regular feeding with dilute organic liquid plant food will keep leafy greens growing healthily. Most commercial systems operate hydroponically, and supply water and nutrients that way. Put water crystals in your soil. They will swell and retain liquid should you go on holiday.
* onehundreddollarsamonth.com/2012/03/how-to-make-a-recycled-pallet-vertical-garden/
High-rise vegetables
* A firm in Mexico, Verde Vertical, have developed a vertical food-growing system on a commercial scale with built-in ladders for easy harvest. They have lofty ambitions to grow food on the sides of skyscraper-style structures in the future. Who knows how they'll harvest the crop.
* On a somewhat smaller scale at the Kumeu Just Gardening show, a fellow from Gardening Passion launched his vertical growing system on wheels, so it can be rolled around to follow the sun. It also has a drip tray so it can be used inside.
* These modular felt pockets, or Woolly Pockets are made in the US from recycled plastic water bottles, and supplied in New Zealand by Vertical Garden. Their website shows herbs and salad greens growing successfully.