Nature walks on Waiheke Island reveal to Donna McIntyre the cornucopia of medicinal herbs masquerading as weeds.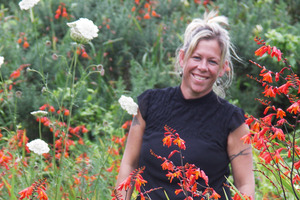 After a weed walk around Waiheke's Palm Beach with naturopath and herbalist Helen Elscot, I feel as if I have had my eyes opened.
I know this area well, but have never appreciated the abundance of weeds growing here, many packed with vitamins and medicinal properties.
"Plants are here for a reason," says Helen. "As soon as you open your eyes you'll be more attuned to what is growing around us and how we can use them."
So today's walk is about taking time to learn how to wildcraft ... harvesting from the outdoors to make natural herbal remedies.
Take the flax beside Palm Beach Hall, our starting point. Helen peels back the covering to show a sticky membrane with similar healing qualities to aloe vera.
"You can use it on bumps and bruises. But test a patch first because people respond differently to herbs. I start on a small dose and work up."
We stop by the lavender across the road. "Mainly it's a herb that works for women, especially for menopausal symptoms, insomnia and depression. But you do need the medicinal variety, the Lavandula officinalis."
Some herbs have a different effect in men than in women. For instance, the chaste tree (Vitex agnus-castus) can act as an aphrodisiac for women whereas in men it reduces sex drive. However, there's no chance to put that herb to the test today as we don't come across any chaste trees on this walk.
If you're unsure of a herb's identity, don't taste it; instead roll and crush it to release the scent. For instance, lemon balm and mint look similar but their smells distinguish them. And Helen warns her groups to steer clear of unknown berries and mushrooms.
Next, she crouches to pick cleaver, a sticky weed with properties that aid lymphatic drainage and urinary tract infections. "But," Helen cautions, "I wouldn't collect from this roadside because of the diesel and petrol fumes, and also dogs are walked along here."
Another herb easy to find near streams is watercress. Like nasturtium it is good for the immune system. But avoid gathering it in places where there is a lot of runoff from properties.
The kawakawa growing undercover near the playground is easy to identify by its heart-shaped leaves. And the more holes the leaves have, the better, as a good chew by caterpillars produces the most active constituents (the ingredients in the herbs that make it work therapeutically).
Helen's weed walks around Palm Beach and Oneroa showing people how to identify and gather herbs to make natural remedies particularly appeal to mothers of young children.
"There is such a demand for it and it saves money because you are making visits to the GP less often," she says.
Further information
* Helen Elscot runs her Weed Walks for groups of 10 to 12 people on Waiheke Island and in Auckland city. They usually run from 11am to 3pm and include a session on show/tell/guess the plants. Cost for the Waiheke course is $60 including four remedies to take home plus course notes and recipes. The next one-day session is on November 17.
* Helen will take part in the Waiheke Walking Festival with Medicinal Plants in the Wild on Saturday, October 27 from 11am to 1.30pm, starting at Matiatia. Ph (09) 372 8102 or visit herbalhealthwaiheke.co.nz.
* The Waiheke Walking Festival runs from October 27-November 4.