A mini glasshouse is the simple way to kick-start a vege patch, says Greig Morgan.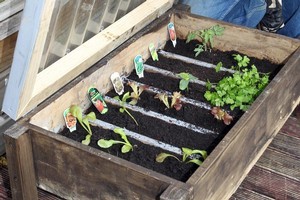 It's spring - time to sow your vegetable seeds so their produce will be ready for your summer salads.
Growing seeds is easy. After all, that's what seeds are programmed to do. All you need is a pot or a tray, some seed-raising soil, and a warm place such as a glass house to get them off to an early start. It's also a fun thing to get the children involved with, as they can create their own favourite salad mix and follow the growing stages for later transplanting into a vegetable garden.
If you don't have a glass house, you could make a simple mini glasshouse/seedling box, just like the one my daughter Eden, 11, and son Jamie, 9, helped me to make.
Step 1
With your measurements, cut to size the sides and ends. Screw the frame together keeping the ends flush with sides of tray.
Step 2
Fix bottom boards to the frame, running the length of the tray. Cut off any overhang.
Step 3
Measure and mark points for dividers evenly along the inside of tray, running from front to back. Then cut dividers to fit, and fix them in using 40mm screws.
Step 4
Fix your 50x50mm legs, one on each corner and at the sides and flush with the top of the frame, using 70mm screws.
Step 5
Now you're ready for the lid: Measure and cut your four pieces of 50x50mm to fit flush on top of the tray. Fix together using 70mm screws.
Step 6
Measure in about 50mm from either end of the lid. Fix hinges to the lid and to the back of the tray.
Step 7
Measure and cut your clear roofing material using sharp scissors. Allow about a 40mm overhang at the front - this will act as a handle to lift the lid up and down. Fix roofing down with roofing screws. Paint or stain your completed seedling tray.
Now just pour in some seed raising soil, plant your favourite salad seeds in each divider, add water and watch them grow.
Materials
150x25mm x 2 @ 700mm (front & back frame)
150x25mm x 2 @ 450mm (sides)
150x25mm x3 @ 750mm (floor)
75x25mm x6 @ 470mm (dividers)
50x50mm pine x 4 @ 300mm (for legs)
50x50mm pine x 4 (lid)
Sheet of polycarbonate clear roofing with screws
60mm hinges x2 with screws 18mm
70mm screws (for lid & legs to tray)
40mm screws for fixing frame, dividers & bottom together
Paint/stain
Seed raising soilSalad seeds
Tools
Sharp handsaw
Screw gun
Scissors
Tape measure
Paintbrush