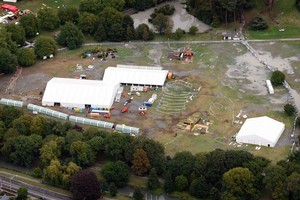 The Ellerslie Flower Show will return to Christchurch, despite the February 22 earthquake inflicting huge cash losses and forcing the cancellation of this year's event.
Organisers had spent $1.5 million on this year's flower show - set to be held from March 9-13 - when the earthquake struck.
Many garden designers had been on site for more than a week building their gardens and marquees had already been erected.
Losses from refunding sponsors and retailers, advertising, paying for the infrastructure that had already been set up and ticket refunds were including in a quarterly performance report presented to Christchurch City Council yesterday.
The Council today announced the flower show would return to North Hagley Park from 7-11 March next year, despite those losses.
Marketing Manager Richard Stokes said the 2012 Show would strengthen the image of Christchurch as a Garden City amid its recovery.
"Ellerslie has always been a place where the latest gardening trends are forecast. This will be more relevant than ever as we rebuild Christchurch because many visitors to the Show may be starting to look for inspiration if they are redesigning their gardens."
Ellerslie staff were happy with news the show would return to Christchurch.
Many were also on site when the earthquake hit and, together with members of the Council's events team, helped to set up the temporary shelter in a large marquee for about 1000 displaced residents.
The marquee continued to provide shelter for 24 hours after the earthquake until welfare centres could be set up in the city.
Exhibition Manager Kate Hillier said knowing the show facilities had helped people in need had brought comfort to many of the staff and exhibitors.
"We were so grateful to be able to contribute in some way to Christchurch at its time of need."
She said Christchurch had embraced the flower show since its move to the city from Auckland in 2009.