Not content with what's on offer, Justin Newcombe makes his own herb box with plenty of room to plant.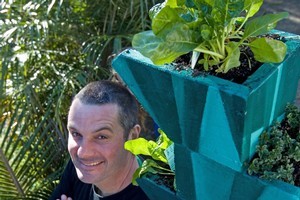 I like the idea of a herb pot - you know, the ones with the funny pockets bulging out of the sides. What I can't work out is why they're all so small. All you get is enough leaf to dress a scrambled egg sandwich and a new hidey place for your front door key. Why can't someone just make a big one?
In response to this yawning gap in the pot market I rummaged around my workshop and found a few leftover fence palings. That may seem like a bit of an inauspicious start but out of it came a project that gives you an interesting sculptured planter with heaps of space to grow those winter herbs and leafy greens without taking up lots of floor area. Best of all it's do-able in an afternoon.
I started with the idea of making a series of rectangular stacking boxes with each stack offset against the one under it to form a kind of tree shape with lots of pockets to plant into.
I also wanted to get two units out of each fence paling but a rectangular box shape meant that wasn't possible so I cut one end on a 45 degree angle, which eked out my supply of timber.
For speed and accuracy a drop saw is definitely a big help for this project.
Once glued and screwed the boxes still looked a little agricultural so I gave them a tidy up with a grinder with a sanding disk then got stuck in with some paint.
I painted each one individually and slightly differently. A simple paint job would have taken an hour but I spent nearly three as I was enjoying some rare winter sun. I screwed the first box to a base made out of a pair of paling off-cuts but a one-piece base would be preferable.
To join the boxes I screwed a support strip to the inside of the first box (a 50mm strip of fence paling is perfect) then screwed each subsequent box to the support as I stacked them. For irrigation, I threaded in some high-tech soaker hose and then filled the tree with potting mix.
My herb tree was immediately appropriated by my daughter, Greta, and we spent half an hour together planting and watering her new garden. That alone made this project worth the effort.
Step 1
Cut fence palings into 450mm sections. For the sides, draw a 150mm square with a 150mm triangle attached and cut. Cut two 150mm square sections for the ends.
Step 2
Glue with Gorilla glue and screw. Allow the glue to dry then tidy with a sander.
Step 3
Paint with a plain layer of paint then build up a pattern. An easy pattern is layers of simple, upright lines. I mixed my own colours in a paint tray. Treating each section individually can also make the end result livelier.
Step 4
Screw one box to a brace and attach the support strip. Stack the boxes attaching each one to the support strip.
Step 5
Insert the soak hose. Then fill the tree with fresh potting mix and plant.