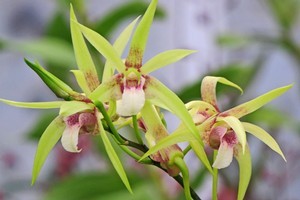 When I'm choosing plants for any project I look primarily at habitat and aspect. Other things like aesthetics, colour or style are secondary, otherwise maintenance will increase. Let's face it, a plant wall is pretty much an artificial environment: light, manufactured building blocks create a structure containing soil. Plant hydration requires the addition of an irrigation system and feeding needs to be done through that irrigation or as foliage spray. That all equals a lot of human intervention.
Take a careful look at the aspect of the sun (and shade) on the wall. In my case the top part of the wall will receive the most sun, from a good dose in winter to an all-day blasting in summer.
Because of all these limitations, plant selection becomes really important. Plants which will do well in the sunny part of the wall are, of course, succulents such as aloe polyphylla and senecio serpens. But there are others which provide a lot of interest and would flourish in these conditions. Tough, strong forms such as astelia, dietes and phormium will do well, followed closely by strelitzia juncea.
And for some long-lasting colour I've planted grevillea gaudichaudi which has bottlebrush like flowers and is usually used as a ground cover.
Ground covers are effective in a plant wall and an edible ground cover is the orangeberry, which makes a tight carpet and has small raspberry-like orange berries. Strawberries are a long-time container classic and are often grown straight out of the side of a bag or potting mix, so fit the bill nicely.
I'm a little concerned about replanting salad greens so most of my edible selection is evergreen but I've seen a few different green wall systems which would be better for salads and annual herbs. A new arrival at Bunnings is blueberry muffin. This compact shrub usually forms a well-behaved hedge but I'm keen to see it become part of my wall. Herbs are often very hardy and will grow in a wide variety of conditions. I've planted rosemary prostrata, thyme and further down the wall where there is less light and more water available, vietnamese mint. Ligularia reniformis, popular for its large shiny round foliage, does well in any shady spot. The reliable clivia miniata is the landscaper's best friend in the shade and I've introduced bromeliads which, being epiphytes, are particularly suitable to a vertical challenge.
Other ideas for your plant wall include plants which grow from rhizomes or tubers such as irises and orchids, which look beautiful when mixed with ferns and grasses. In this selection I've mostly gone for reliable landscape-type plants but am excited by the addition of some colour and luxury with orchids and irises which will prove to be a spectacular success.
Small gaps can be pluged with mondo grass or liriope silver dragon.
I expect some of my choices to be marginal - especially the edibles. These will need the most feeding and maintenance and may need to be replaced more frequently.
Most of the others are a sure bet and with the inclusion of irrigation, will prove themselves easy to care for. Feeding will be done by spraying the foliage or through the irrigation system.
3 of the best: red plants
Synadenium grantii
Striking maroon foliage and easy to propagate from cuttings, but watch out for the toxic sap.
Coleus
Great foliage for hanging baskets and pots. Loved by caterpillars and gardeners alike.
Iresine herbstii
Crimson heart-shaped foliage with hot pink veins running through it. The Fabio of the plant world.
Be in to win a plant wall kitset
The good folks at Maccaferri have given us one of their garden wall kitsets to give away, valued at $400. This includes eight 500mm square wall modules plus irrigation piping and instructions (excludes growing medium and plants).
To enter email your contact details to life@nzherald.co.nz with "Garden Wall" on the subject line by Thursday June 9.