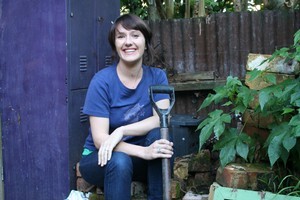 A New Zealand garden, admired by the Queen, has won a silver medal at the world's most famous flower show.
The garden by Waikato horticultural export company Tamata Holdings shown at London's Chelsea Flower Show was called Te maara nui o maples (the garden of great maples) and was designed by Xanthe White of Auckland.
The garden received a silver medal at this week's show but perhaps more importantly was chosen for the royal walkabout by the Queen and the Duke of Edinburgh.
The garden was chosen from more than 600 exhibits and Ms White and Tamata Holdings' general manager David Parkes were present to welcome the Queen who commented on the colours and called the exhibit "lovely".
Ms White said it was "such an honour to present our little garden to the Queen".
"She paused after meeting us to admire the Japanese maple trees in the garden, and her minders tried to hurry her along.
"It made my day," she said.
She said the Chelsea Flower Show was the "Olympics of the gardening world" and she felt proud to have been awarded a silver medal and "put New Zealand horticulture on the world stage".
Bob Sweet, The Royal Horticultural Society's (RHS) head of shows development, said the Tamata maple garden was "exquisite".
"The planting is very atmospheric, and even though it is small, it is of a very high quality," Mr Sweet said.
The award comes after the last garden Ms White was preparing for Christchurch's Ellerslie International Flower Show was destroyed in February 22's earthquake.
"I was in Hagley Park when it happened and my garden was half built," she told NZPA last week.
Her experience with the earthquake made her appreciate the work of the Red Cross and she will be auctioning off all the plants and donating the money to the Red Cross at the end of the show on Saturday.
- NZPA