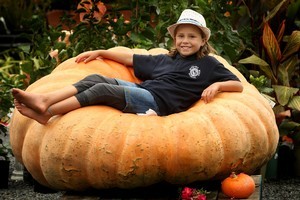 A pumpkin the size of a tractor wheel and the weight of two baby elephants made a perfect-sized sofa for Ella Gordon-Scapens, 8, at a competition in Tauranga at the weekend.
Weighing 392.8kg, the monster pumpkin was the biggest entered in the Decor Gardenworld "Biggest Pumpkin Competition" on Sunday.
It was grown by Mark Briengan who had to use his forklift to carry the vegetable to the competition.
It took only 100 days for the vegetable to grow from a flower to a monster pumpkin, he said.
"You've got to dig yourself a big hole ... and chuck a whole lot of chook manure and some chemical fertilisers in it, then just let it grow," Mr Briengan said.
Garden centre owner, Ginny Clark, said Mr Briengan's pumpkin was the largest she had seen in the 10 years she had been running the contest.
"I think he's been trying to grow big pumpkins for a numbers of years. But now he's had huge success, literally."
The competition has three categories: largest pumpkin, best dressed and people's choice.
Mr Briengan had big plans for his pumpkin and would tour other competitions in the region before feeding it to his cattle.