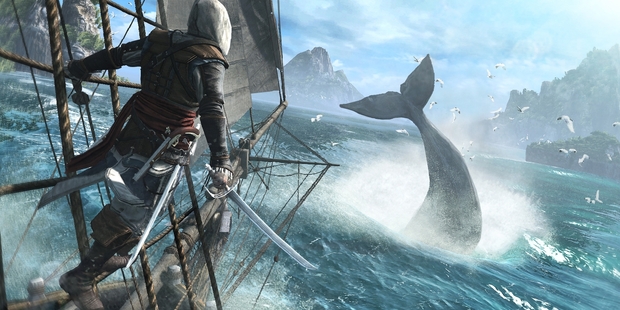 Assassin's Creed: Black Flag is a good apology. Rushed out a year after Assassin's Creed 3, it goes a long way toward righting many of its predecessor's wrongs. Gone are the occasionally annoying gameplay, the convoluted storyline, the world that is more expansive than interesting. In their place is the rollicking story of a lowly mariner's rise from ambitious drunkyard to feared pirate captain.
That pirate is Edward Kenway. Think of him as Han Solo on a boat.
When he's not sneaking around searching for a bad guy to impale or free-running across rooftops, Kenway likes to spend his time drinking with ruffians and singing shanties on the open sea.
His role as a rogue motivated more by riches than morals makes him distinct from the previous lead characters of the Assassin's series.
It means he's a lot more fun.
Black Flag follows Kenway through the 18th century Caribbean cities of Kingston, Nassau, Havana and the surrounding seas.
Many of the landlocked features of the previous three games are present, with the option always there to spend endless hours hunting down treasure, accepting assassination contracts and even pursuing golden flying musical notes (they give your crew a new sea shanty to sing) as they float frustratingly away.
But the real fun happens with Kenway at the helm of the pirate ship Jackdaw. His job is to plunder frigates and schooners for materials to upgrade the ship and maintain a crew despite a shockingly high incidence of workplace injury and death.
Once you get your head and hands around the controls, the swashbuckling sea battles that follow may be the best part of the game. There's not much that is better than pummelling an enemy vessel into submission with cannon fire, leaping aboard, cutting your way through its crew, accepting their surrender and sailing away as your men launch into What Shall We Do With The Drunken Sailor.
The only problem with the game is its sometimes-boring modern-day segments. Past Assassin's games always dragged players out of the game for interactive story segments with Desmond Miles. After Miles' death in Assassin's 3, Black Flag has to start from scratch.
Though it's interesting to see how the story intersects with that of previous games, it can be a bit of a bore - especially for those unfamiliar with the series.
It's a small quibble with an excellent game. Wave your loved ones goodbye when you start playing. You'll be out to sea a long time.
Stars: 4.5/5
Platforms: PC, PS3, PS4, Xbox 360, Xbox One, Wii U, R16
Verdict: Some time at sea has done Assassin's good.
Click here to buy Assassin's Creed: Black Flag
Follow @nzherald_ent on Twitter for all the latest entertainment news.
- TimeOut