Chris Schulz reviews the biggest gaming event of the year, Grand Theft Auto V.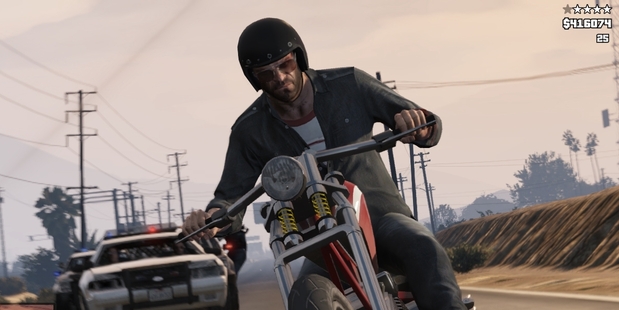 This morning, I pulled a gangster wannabe off his pimped-out motorbike, then took it for a joyride. I chased another dodgy dude through a train yard, used my pet rottweiler to sniff him out, then bundled him into my van.
Later, I had an alleyway shootout with a gang of lippy Latinos - and won. I celebrated by getting drunk in a strip bar, but got thrown out for getting overly affectionate with the girls. It wasn't even 10am.
Welcome to the world of Rockstar's Grand Theft Auto V, a stunningly vivid and infinitely complex neon sprawl of a game that is about to take over the lives of the people around you.
If your workmate has a dead-eyed stare - it's GTA V. If a pedestrian bumps into you muttering something about "just one more mission" - it's GTA V. If your flatmate is getting up at 2pm after a gaming all-nighter, then switching the PS3 straight back on - you can bet it's for GTA V.
The fifth instalment of what's already become the gaming event of the year is an open world crime caper that sets the benchmark not just for the Grand Theft Auto series, but for gaming itself.
With three playable characters, a city map larger than all previous instalments combined and an estimated 500 missions over 100 hours of gameplay, you need a heck of a lot of spare time to complete it. And that's before GTA V Online has launched.
Yes, GTA V is terrifically violent. As either repo boy Franklin, retired crim Michael or drug-addled desert-dweller Trevor, you will regularly put bullets in heads, seek out revenge against criminal underlings and run over innocent bystanders.
Yes, it's incredibly macho. Once again, there are no playable female characters. And yep, Los Santos is unbelievably huge. Come to terms with the fact that you will never discover all of its hidden treasures.
Yet, amid all the gangster shenanigans, there are simple pleasures: throwing a ball for Franklin's dog Chop to fetch, tuning into the loonies on West Coast Talk Radio, cruising the streets in a low-riding Cadillac blasting old school hip-hop or grabbing a golf buggy and taking in nine holes.
And there are nice improvements on previous instalments - weapon-aiming systems have been streamlined, checkpoints during missions saves repetition, car handling is more stable and switching between characters is effortless. And check out that lens flare during a stunning sunrise.
There's so much to see and do in GTA V. Yet nothing beats the adrenalin rush of stealing a car, running over a few pedestrians, racking up a five-star police rating, cranking up Johnny Cash and seeing how long you can outrun the cops.
If you're visiting Los Santos, make it the first thing you do.
Stars: 5/5
Platform: PS3
Rated: R18
Click here to buy Grand Theft Auto V.
Follow @nzherald_ent on Twitter for all the latest entertainment news.
- TimeOut