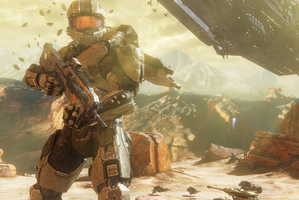 When Halo 4 was released in New Zealand earlier this week, copies of the game were labeled with the Australian "M" for mature rating certificate.
Under the New Zealand Films, Videos, and Publications Classification Act (1993), games that are rated by British or Australian ratings boards in a way that declares they have no restricted content (including an Australian M rating) are not required to be classified in this country.
Halo 4 was submitted to the New Zealand classification board, and has since been rated as R13 - restricted to gamers 13 and over, with a classification note that simply states "Violence."
Under New Zealand's classification legislation, copies of Halo 4 with the blue "M" rating are now in breach of the Act, and selling them without the new R13 label is against the law. As a result, Trade Me are blocking copies of the game from being sold until such a time as they are correctly labeled R13.
This restriction includes all sales of the game, even secondhand.
Customers who require an R13 label have been advised to contact Xbox Support.