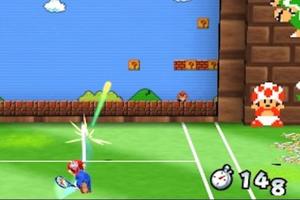 Mario Tennis Open is the newest Mario tennis title from the Japanese game developer, Camelot. It lets you play as any one of the gang of Mario characters, and they each have specific strengths and weaknesses. If you'd prefer something more personalised, players can also use their 3DS Mii character.
Mario Tennis Open comes equipped with the game modes you would expect from the 3DS: singleplayer, local multiplayer, online multiplayer, and "Street Pass", which lets you engage in games with other Miis that you might encounter as you're wandering around with your 3DS. While I wasn't able to make use of the multiplayer options, which allow you to play against other 3DS-toting friends (only one of whom needs to own the game), there are still a bundle of options for those going solo.
First up is the tournament mode, where you play against a range of opponents in order to climb the ranks and win tournament cups. Getting through one tournament subsequently unlocks the next; there are four different tournaments that you can play through.
Exhibition mode lets you play against different characters on different courts, either in a singles or doubles game. Here you can choose your opponent, the skill level of the game, the court, and the number of sets and games you'll play, as well as the starting positions of each player.
The gameplay in these two game modes is pretty straightforward: manoeuvre your Mii to the right spot on the court, and then choose from a variety of different shots (helpfully referenced in the lower screen while you play). You can go for a lob, drop shot, slice, apply topspin to your shot, or hit it flat and hard. For players finding all the options a bit much, the x button will perform a 'simple shot', but of course you won't want to run around pressing just one button to hit the ball for long.
In addition to the different shot types, there are also two different view modes available. First up there's the standard three-quarter view, that takes in most of the court, and your opponent, from a reasonable distance above all of the action. If you want to get closer to the feel of the court, however, by lifting the 3DS up in front of you, Direct Mode is triggered.
In Direct Mode, you move the 3DS left and right to look around the court. When you hit your shots, they will be aimed in the direction that you're facing as well. In this mode, characters will automatically run in the direction of the ball, which can be useful for beginners who want to practice their different shot combinations, but ultimately means there is little challenge in playing in this mode for too long. (This is a shame; it would be good to have the option to turn the 'auto-run' behaviour off, so players could continue to enjoy the "at the net" experience, but with more of a challenging game.)
There is also a third option for solo players, called Special Games. This is a group of tennis mini-games, designed to mix things up a little and really let players utilise some skilled shot placement. In Ring Shot, you begin a standard rally, but while you play against your opponent you also are trying to hit various golden rings that appear over the net, and that are worth more and more points as they grow bigger. In Galaxy rally, you have to play a rally against the Luma, a floating star opponent, who also has a constantly changing court. In Ink Showdown, you play on a court where several Inky Piranha Plants have positioned themselves. They spit out great balls of ink that you have to hit back, or else your screen gets covered in ink splotches.
My favourite of the Special Games however, was the Super Mario Tennis game, where you repeatedly hit a ball against a wall, upon which a scrolling game of Super Mario Bros is playing. You get points for squashing Goombas and Koopas, as well as triggering mushrooms and collecting coins. For veterans of the classic Mario game, it is an interesting twist on the title.
Winning games (or even doing reasonably well) rewards players with coins that they can then use to buy new gear for their Mii in the Club Room. Some gear is obviously just decorative, while other items, like the Donkey Kong Wristbands, improve your character's power, spin, and movement on the court.
While Mario Tennis Open certainly has a lot going for it, including a good theme and the great production value we have all come to expect and enjoy from Mario games, there wasn't really enough to keep me riveted to the game for long periods of time. The music was too cutesy and grating for my liking (a complaint I have with many Nintendo sports games), and I would have liked the option to be able to turn it off, but keep the sound effects of the match. Still, I would rate it as a good go-to game to pick up for short periods, like the bus ride to work.
Just make sure your headphones are firmly plugged in first.
Rating: 3.5/5
Platform: Nintendo 3DS