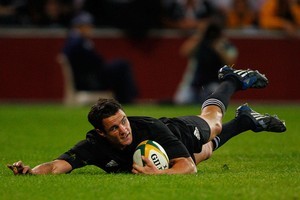 A self-confessed "leaguie" and Maori Television anchor for its Rugby World Cup coverage, Te Arahi Maipi, is proving a tough nut to crack.
Weeks after Sky Television announced the make-up of its commentary teams for the tournament starting in just over nine weeks, the Huntly-born and raised Maipi isn't giving away anything about who will accompany him behind the microphone.
"But what I can tell you is it's looking really exciting - we have a strong international flavour to our rugby commentary which we are really happy about," he said.
"One of our aims was to be the global marae of the Rugby World Cup. Not only do we want to hear the voices of our own people but we want an engaged perspective from the UK, the Pacific Islands and across Australia."
Maori Television is the lead free-to-air broadcaster, showing all 48 games of the tournament - although 32 of those will be delayed.
Its Te Reo channel will carry the 48 matches called entirely in Maori by a team headed by experienced commentator Hemana Waaka.
Maipi said the non te reo matches would have 5 per cent Maori language content - similar to the station's coverage of New Zealand Breakers' basketball games.
He said viewers were spoiled for choice but the station's target audience was not the hard-core rugby fans wanting all matches live and serious analysis.
"If you're hard-core like that there's Sky, but obviously we still want to be accurate and informative ... the angle we are taking is more of a celebration and festival feel," he said.
"We are after the people interested in the event, not just the games, and we want to give a different view on things, to find out information about teams like the Russians.
"We want to get a little bit more human interest and entertainment in there as well as having good rugby calls."
Come the business end of the tournament, Maipi says, the All Blacks, Australia, South Africa and France are likely to feature.
"At home with the amount of quality players we have you have to say the All Blacks are favourites, but the South Africans and Australians are very good teams and they are coming into their own with Super Rugby.
"They have some top shelf players with very good combinations throughout their teams - but you can never discount the French, as we know all too well."
TE REO VERSION
He uaua te whakapati korero mai i a Te Arahi Maipi, te tangata e whakaae nei ki te whakawai he tangata "wairangi i te riki" ke ia.
Ko ia te punga mo Whakaata Maori mo ana pahotanga mo te Kapu Nui o Te Ao mo te Whutuporo. Kua puta noa mai te rarangi ingoa o te tima whakataki o Sky Television mo te tauwhainga, e timata ai i te iwa wiki, engari kaore a Te Arahi, te tangata i takea mai i Rahui-pokeka, e hiahia ana ki te whakapuaki ingoa o ana hoa korero ka noho i tona taha i muri i te hopureo.
"Heoi ano he korero maku i tenei wa, he rawa te ahua o te ropu - he ropu i takea mai i nga topito o te ao, a, ka nui to matou hari mo tera," e ai ki ana korero.
"Tetahi o a matou whainga kia noho ko matou te marae ao whanui o te Kapu Nui o Te Ao mo Te Whutuporo.
"Ehara i te mea kia puta ko to matou reo anake, engari kia rangona nga whakaaro o nga iwi o Ingarangi, o nga moutere o te Moana nui a-Kiwa, me Ahitereiria."
Ko Whakaata Maori te kaipaho matua ka riro mana e whakakite nga kemu 48 katoa o te tauwhainga - otira ka whakatarewatia te whakakitenga o nga kemu 32.
Ma te tautohito ki enei mahi ma Hemana Waaka e whakataki nga kemu 48 ki te reo Maori anake, i te hongere e kia nei ko Te Reo.
Hei nga kemu kaore e pahotia ki te reo Maori ka noho ko tona 5 orau o nga korero i roto i te reo - he orite ki nga pahotanga a te teihana o nga kemu o nga New Zealand Breakers, e ai ki a Maipi.
Ki a ia, he maha tonu nga kowhiringa ma nga kaimatakitaki, engari ehara te hunga whakarongo e whaia nei e te hongere i te hunga kaingakau rawa ki te whutuporo e hiahia ana ki nga kemu kia pahotia inamatatia, me nga whakaaro wetewete tino hohonu.
"Mehemea he tino matanga pera koe, ara a Sky, heoi ano, kei te hiahia tonu matou kia tika, kia whai hua ... ko ta matou e whai nei kia rangona te wairua o tenei mea te hui nui, o te ngahau ano hoki," e ai ki a ia.
"E aronui atu ana matou ki te hunga ngakaunui ki nga ahuatanga katoa o te hui, o te tauwhainga, kaua ko nga kemu anake. Kei te hiahia matou kia whakaaria nga whakaaro o nga iwi ke, penei i nga Ruhiana, e haere mai nei. E hiahia ana matou ki te whai i nga ahuatanga a-tangata, me nga mahi ngahau hoki i roto, i te taha o nga korero whutuporo tino whai tikanga."
Kia tae ki nga ra whakamutunga o te pakanga, e ai ki a Maipi, ko nga kapa e tu tonu ana pea ko nga O Pango, ko Ahitereiria, ko Te Tonga o Awherika, me Paranihi.
"Na te mea e takaro ana i te kainga, ko nga O Pango pea te tima ka matapaetia pea ko ratou ka toa, engari he tino tima papai Te Tonga o Awherika me Ahitereiria, kei te tino pai haere i runga ano i nga whakamarotanga tuara o te Super Rugby.
"Kei runga noa atu etahi o a ratou kaitakaro, he rawe hoki nga patuitanga i roto i o ratou kapa - engari ma wai e wareware atu ki te kapa Wiwi, kua mohio noa atu tatou ki to ratou pai."