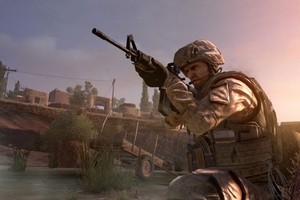 A videogame depicting a fictional US and Chinese invasion of Tajikistan to prevent an Islamist takeover has upset the Central Asian nation after apparently touching a raw nerve.
A member of parliament called the game creators "foes" with a "sick fantasy," as he urged parliament to ban sale of the videogame Operation Flashpoint: Red River.
"This computer game is a result of sick fantasy by Tajikistan's foes, who dream that our country will remain in the abyss of constant conflicts," said Davlatali Davlatzoda, a member of the ruling People's Democratic Party.
"It is painful and horrible to watch how our villages and cities are being destroyed as a result of anti-extremist actions by the Chinese and the Americans," he said.
"Our country will have presidential elections in 2013 and I am deeply convinced that certain forces cannot calmly watch how they will take place," he said
According to the plot of the game released in Europe in April, the US forces spill over from the neighbouring Afghanistan to prevent Islamic militants from taking power in Tajikistan in 2013.
China's People's Liberation Army enters Tajikistan to battle American dominance, according to the fictional videogame plot.
In the 1990s after the fall of the Soviet Union, Tajikistan went through a civil war with Islamists, which claimed lives of hundred of thousands of people.
An impoverished ex-Soviet country, Tajikistan is a mostly mountainous nation of seven million people on the border with Afghanistan and western China.
- AFP