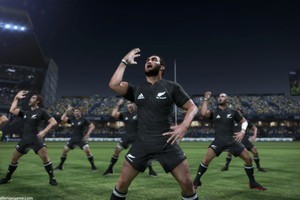 Last week NZGamer.com popped down to Sidhe Interactive to check out All Blacks Rugby Challenge. It's obviously an appropriate title for New Zealand sport this year, but it's also an attempt to make an engaging Rugby title - something that's proved problematic for developers over the years. Thankfully, as with the game's namesakes, things are looking positive heading into final prep.
After a couple of impressive stills of ITM Cup stadiums for Canterbury and Taranaki (photographers were sent round all the grounds, and unfinished stadiums - such as Eden Park - were completed off their plans) we got our first look at the menu.
The intro sequence features Mils Muliaina, Dan Carter and Ritchie McCaw in the heat of action setting up a try. However, this sequence can change as the game will detect which country you're based in and select your national team by default. This is similar to the EA Sports Favourite team option that featured in FIFA, NBA and Madden, but the presentation is far better than we've seen in any sports game from Sidhe.
The developers have really aimed for a more emotional and engaging experience; there are lens flares, slow mo captures and snap zooms galore. If you've seen the night-time Piri Weepu haka shot, you'll see what I'm talking about. The camera angles are more dramatic.
Sidhe has also managed to break new ground by individuating crowd members. The change from a classic "cardboard" crowd has made big waves in the international digital world. There are even security guards, journalists, teammates and other sideline essentials. It's a wonderful small touch that looks very impressive.
Apart from one and two-player options, you'll also be able to play a single season and attempt a legacy in Franchise Mode. The ITM, Qantas and Super 15 franchises will be available, and there is also word of multiple European teams being involved. For those curious, the squads are current as of two weeks ago. As you'd expect, a big focus has been placed on online play to ensure any lag is minimised, so here's hoping you and three mates can go compete without any jitters.
A handy tutorial helps get you up to scratch and, with an eye to the RWC bringing in new fans, a lot of work has been put into making this both easy and accessible. Various skills, such as running between cones, practicing kicks, and many other NZ primary school classics will have you doing behind-the-back passes and side-stepping opponents in no time.
All Blacks Rugby Challenge also features Rugby Money, a rewards system most gamers will be familiar with (think GT or Burnout). These rewards come from completing various activities, whether running through the tutorials or playing online, and can be spent in the Rugby Store. This is not an online function, but rather an in-game unlockable system similar to Sidhe's Rugby League games.
After being walked through a game featuring the All Blacks (game rating 95, the highest in-game) vs. the Wallabies (game rating 91, deal with it), we got our own chance for glory.
The pre-game Load Screen allow players to practice their passing skills in both one and two-player modes in a generic New York-esque background, although apparently it was originally Wellington's Newtown Park.
Of course, the All Blacks do the Haka. Only Ka Mate will feature, and in this case is led by Hosea Gear. Apparently the game will always pick the most relevant player to lead the Haka. Opposition teams respectfully stand and take it, which sadly means no Manu Samoa or other countries' traditional challenges.
Controls are simple and should be familiar to most sports game fans. An interesting thing to note is that bound characters in a ruck cannot be unbound, to allow for a faster game. When kicking, the wind is shown dimensionally on the field using VVVV symbols rather than a HUD system. Side-stepping and fending require the use of the right analog stick, and passing after a tackle will result in an offload, depending on your stats.
When a player starts to pulse, they gain momentum and will have heightened attributes (break tackles etc). Those attributes include Mental Agility, which affects both a player's awareness (especially with offloads) and also relates to their Discipline stat. Incidentally, Ma'a Nonu gets 58 MA. If you have a problem with that, there's an incredibly detailed player editor and character creation menu, which will allow for all those personalised rugby memories you've been craving.
Commentary comes from Grant Nisbett and Justin Marshall, with Nisbett doing the heavy lifting and Marshall firing in asides. Fans of Jonah Lomu Rugby will be glad to hear Sidhe are fans of the game, so you may hear a couple of classics ("Dig's like a demented mole!") popping up. And that's not the only involvement the big man has lent to the game.
Sidhe Interactive has been liaising with the NZRFU for their Weta Digital motion capture with Jonah Lomu and various All Blacks, although we haven't yet been told which ones.
All in all, this is an impressive display, and something rugby fans should be excited about. Can it finally give us a rugby game to be proud of? We'll find out in the coming months.
All Blacks Rugby Challenge will be released on Xbox 360, PS3, PC, and PS Vita.