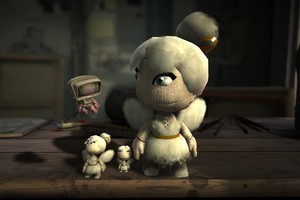 I'm getting too old to be giggling like a kid when I'm gaming, but it's hard not to with Sony's stunning sequel to the groundbreaking Little Big Planet.
Again, it follows the "play, create, share" ethos, with part of the game hyper-addictive side-scrolling platformer, and the rest tools to make your own game levels, now including music sequencing and DIY fancy cut scenes.
The main character is still Sackboy, who starts off as a boring brown hessian chap, before users customise him to their hearts' content. He is charged with helping save Craftworld - an incredibly cute universe hewn from the greats of the kindy activities cupboard; cardboard, scraps of material and other suitably crafty stuff.
This magical environment is under threat from the Negativatron, a nasty beast that is gobbling up everything on the planet, and Sackboy's initiation into The Alliance (good guys) sees him at the sharp end of saving it.
Obviously the story is more kids' book than riveting page-turner, but it's the lovingly crafted levels that are the real stars here, as are colourful characters like the inimitable wannabe Avalon Centrifuge.
Along with vast graphics improvements (although still only 720p resolution), there are around 30 levels to play through, either solo or with up to three others (local or online), and some new "Versus" mini-games that require two players - especially if you're chasing 100 per cent level completion, trophy hunters.
New in-game tools include jump pads, which send the sacky one skywards, grappling hooks, which are used to swing through stages, Spidey-style, and the Creatinator, a hard hat that fires everything from cake to actual bullets, all independently aimed from with the right stick.
The story mode is challenging enough, and has plenty of replay value to get those achievements and hidden goodies - all cool materials, stickers and objects collected in-game are then unlocked in Create mode, and any LBP goodies are imported from the first game. And once you've finished with the campaign, there are millions of player created LBP levels online already, or you can make your own in Create.
Create mode is now simpler to use. There are numerous tutorials, all smoothly voiced by Stephen Fry, which allow you try out tricks while he explains each concept. It's daunting, but once you start seeing results, you'll be building levels in no time.
Objects can be created from scratch, downloaded from the community - which stuns with some of its boundless creativity, and in a lot of cases, unbridled lameness - or made by simply taking a photo with your PlayStation Eye camera. That's right, absolutely anything, from the kettle to the mother-in-law, can be used in-game.
Connections between objects are now easier to fathom, it's possible to create control configurations (logic boards) for different vehicles or objects, and the now-logical list of tutorials makes it easier to find and fix any issues. You can now add your own voiceovers, create soundtracks within the in-game sequencer, and place cameras within levels to make awesome cutscenes.
And a revamped community approach from makers Media Molecule lets creators track who has been using their objects, or playing their levels. Unfortunately, the big criticism from the original remains - the control system is very "floaty" - making life hard when you're trying to land a boy made of sack in between two electrical currents, or fires, or other obstacles common found in platform games.
But it's a small gripe - after all it's only February and already this is going to be one of the year's best games.
Rating: 5/5
Platform: PlayStation 3
Classification: G