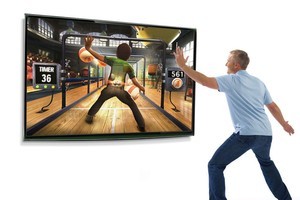 WASHINGTON - Microsoft said it has sold one million Kinect motion-sensing controllers for the Xbox 360 videogame console in 10 days and is on pace to sell five million by the end of the year.
"This is a great start to the holiday season," said Don Mattrick, president of Microsoft's Interactive Entertainment Business.
"We will continue to work with our retailer partners to keep pace with high demand and deliver against our plan to sell more than five million Kinect sensors worldwide by the end of this year," Mattrick said in a statement.
Microsoft launched the Kinect in North America on November 4 and in Europe last week. It launches in New Zealand tomorrow.
Kinect uses a 3D camera and motion recognition software to let people play videogames using natural body movements and voice commands instead of hand-held controllers.
The standalone Kinect, which works with the 45 million Xbox 360s already sold worldwide, costs NZ$229. A four-gigabyte Xbox 360 console that includes Kinect and the Kinect Adventures game sells for $499, while a full Xbox 360 Slim with a 250GB with Kinect costs $599.
- AFP