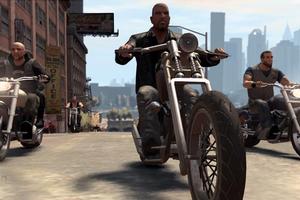 An outspoken anti-gaming Aussie politician says he's more at risk from angry gamers than outlaw bikie gangs.
South Australian Attorney-General Michael Atkinson is single-handedly stopping Australia from introducing an R18 classification for video games there - making it the only developed country without one.
He was also instrumental in introducing tough anti-gang laws in the state.
He told ABC television's Good Game programme that he had received a 'threatening note from a gamer.'
"I feel that my family and I are more at risk from gamers than we are from the outlaw motorcycle gangs who also hate me and are running a candidate against me," he told the programme.
"The outlaw motorcycle gangs haven't been hanging around my doorstop at 2am. A gamer has."
Atkinson's opposition to the instruction of an R18 classification means adult-themed or violent games are 'refused classification' as a matter of course, because there is no suitable classification.
If a game is not given a classification it can't be sold and is effectively banned.
All six Australian Attorney Generals need to agree on changes to censorship rules to add the new classification - giving Atkinson veto power over an R18 sticker.
Not surprisingly, Atkinson has been involved in an ongoing stoush with gamers who believe that an adult rating would help parents make informed decisions on games for their children and allow those over 18 year old play games designed specifically for their demographic.
An anti-gaming letter he sent to a member of the public - confirmed by his office as the real thing - covers Atkinson's views quite comprehensively.
"I am concerned about the level of violence in society and the widespread acceptance of violence as a form of entertainment," it reads.
"I am particularly concerned about the impact of this extreme content on vulnerable adults. On balance, the rejection of less than a handful of games each year has a trifling impact on the choices available to Australian adult gamers, compared with the impact extremely violent and sexually explicit games would have on at-risk adults and minors".
No stranger to controversy, recently he accused Liberals of making up people to post comment against him on a news website. He told a radio station about Aaron Fornarino of West Croydon - a commenter on the AdelaideNow website.
"That person doesn't exist," he said, "That name has been created by the Liberal Party in order to run Liberal Party commentary."
As Kotaku.com reported, the very real Aaron Fornarino lives just a few hundred metres from Atkinson's electoral office.
His light touch with the truth hasn't always been focused on scary technology. It was reported that he told the South Australian parliament that outlaw bikers had used a park in his electorate to "cook a cat for human consumption".
He had to apologise when it was revealed that it wasn't a cat, no bikies were there and the incident had happened somewhere else.
- NZ HERALD STAFF