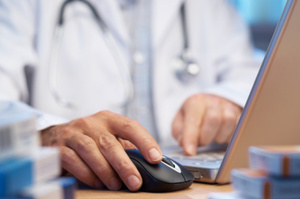 SPOT CHECKS: HealthSpot aims to use telemedicine kiosks to change how the health system works. When you enter a kiosk you first use a touchscreen to enter and confirm some personal details. Then you connect via video with a doctor who chats with you and can release relevant medical instruments from closed panels. Instruments may include devices for looking at skin lesions or the eardrum, for example. The data is immediately available to the doctor who can issue prescriptions or paperwork. After each visit the kiosk is sanitised and checked. HealthSpot expect to install their kiosks in places like grocery stores, pharmacies and university campuses in the US this year. It sounds much healthier than a doctor's waiting room.
JUST BREATHE: After a disaster teams of rescuers may have to search rubble for survivors, and that's a tricky job. But as we breathe, the air we exhale contains traces of chemicals that can give away our presence.
Ion mobility spectrometers have been used before to identify signs of diabetes and lung cancer in breath. Researchers at the Leibniz Institute for Analytical Sciences in Germany are working on a spectrometer that would draw air samples from inside piles of rubble and analyse them within 3 minutes. 12 particular chemical signatures suggest there are people breathing. The device worked well in the lab but now needs real-world testing to prove its usefulness. If you're trapped in rubble, just keep breathing.
NO TIME AT ALL: Researchers at the University of California have found a way to make a clock from a single particle. Until now atomic clocks, the most accurate we have, rely on the regular pattern of switching between two energy levels, and involve both the nucleus and electron of an atom. The new clock uses lasers to split cesium atoms into two halves and measures the time differential between one half that moves and the other half that doesn't. The new clock tells time less accurately than current atomic clocks but could be used to help define mass. The next idea the researchers have is to see if they can make a clock with no particles at all, and that's not even a joke.
TREES ON TAP: Chemical engineers at the University of California say they can use Eucalyptus trees, or other fast-growing plants, to create a fuel to replace diesel. A fermentation process used in World War 1 transforms plant material into a propellant. Then a catalyst converts the propellant into a mix of hydrocarbons similar to those in diesel fuel. The final product burns as well as petroleum-based fuel and contains more energy per litre than ethanol. Using non-food crops would be quite an advantage, and maybe the eucalypts would make it smell good too.
DRIVE STREAM: The Wireless Plus external hard drive from Seagate offers a terabyte of storage, but its most important feature is that it includes a Wi-Fi hotspot. The drive can create a wireless network for computers and mobile devices. A media app means the drive could be used to stream media on smartphones and tablets, while a removable USB 3.0 adapter lets you plug the drive in if you really want to. Hooray, one less cable to be bothered with.
Miraz Jordan, knowit.co.nz