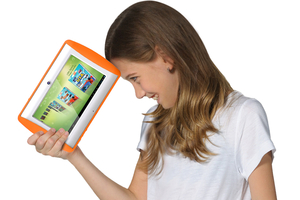 A Kiwi girl is the international face of a new tablet that claims to be the safest for kids with built-in Wi-Fi.
Eleven-year-old Cambridge girl Jasmine Pinfold, left, was picked by international company Oregon Scientific as the face of MEEP!, a new tablet with parental controls designed to stop children visiting unsuitable sites and prevent bullying. She will appear on the packaging and television advertisements around the world.
Jasmine's mother Katherine Pinfold said she was happy for her daughter to promote a kidsafe product.
"When Jasmine was 6 I found she had put video footage of herself singing on YouTube and people had posted nasty messages," Katherine said. "We had to remove them and explain to her why she couldn't do that.
"With MEEP! we can limit the websites they go on, so it is a lot safer."
Jasmine, who is now based in Hong Kong with her family, said she loved being part of the campaign and was looking forward to more acting work.
The MEEP! will be launched in New Zealand this week and is sold through Harvey Norman for $270.