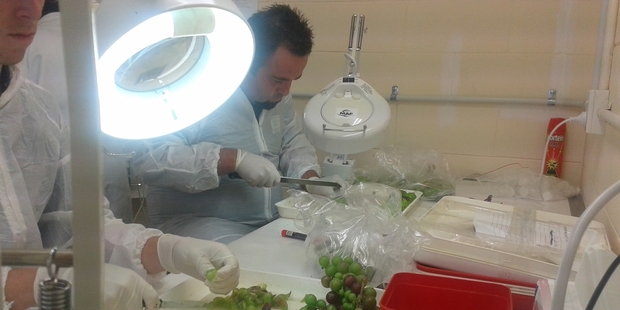 Among the 70 biosecurity staff working in Whangarei since a Queensland fruit fly was found are people putting slices of fruit under the microscope.
A team is working in shifts inside a Ministry of Primary Industries (MPI) mobile laboratory that was trucked to Whangarei and set up at a QualityAssure site in Dyer St.
They are examining samples of fruit collected from inside the affected area, looking for larva, pupa or other signs of infestation.
The female fly lays eggs near the surface of decaying fruit which hatch as larva, burrow into the fruit and gorge themselves, pupate and then as adult flies, head back out into the world looking for the next likely fruit or vegetable.
In the week since the lone adult male was found in a trap at Riverside in a routine surveillance programme, there have been no more discoveries.
"This find does not constitute an outbreak," MPI deputy director general of compliance and response, Andrew Coleman said.
But the biosecurity alert is far from over. The investigation and the restrictions imposed by MPI will continue for at least two weeks.
All properties within a 1.5km radius of the discovery site have been visited by MPI staff and inspected for fallen fruit and vegetable plots likely to host the fly.
Household, retail and commercial vegetable and fruit waste is being dumped in 211 disposal bins in key locations in the controlled area. MPI is collecting these, taking some material for analysis and then disposing of the material.
A ban on anyone moving produce out of the controlled area has seen MPI work closely with the Countdown supermarket in Okara Park where customers are asked not to buy fruit and vegetables if they intend taking it outside the quarantine zone.
A Countdown spokesperson said staff are liaising with other retailers in the area to ensure their customers are aware of the restrictions.
There have been no adverse trade reactions to the detection of the single fruit fly.
For more articles from this region, go to Northern Advocate