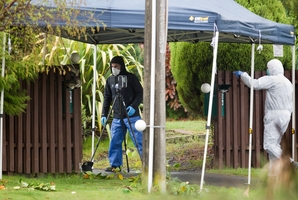 A Taupo man woken by yelling and screaming early yesterday said he knew something wasn't right - but had no idea just how serious the situation was.
Kepa Whakatau said it was only when he turned on the news later that he realised the noise he heard was part of an incident that left 19-year-old Wiremu Birch dead and police looking for clues in the homicide investigation.
It is believed Mr Birch had been stabbed, although a post-mortem examination today will determine how he died.
"I knew something wasn't right and maybe there was a gang confrontation or something wasn't right but I didn't want to go and have a look," Mr Whakatau said.
His family knew Mr Birch's partner and, while he didn't know Mr Birch well, "he seemed a pretty good guy".
"I used to see him walk to the shop and I never saw any trouble or any dramas with him."
Mr Whakatau described it as "heartbreaking" that a life had been lost in such a fashion in the community.
"I heard the yelling and the screaming because I don't live too far from here.
"I could hear the noise and I didn't think it would end up this bad but yeah."
Detective Senior Sergeant Graham Perks said it was too early to speculate on the details surrounding Mr Birch's death.
However, he said as far as he was concerned it was an "isolated incident" and there was no general risk to the wider Taupo community.
Police officers had been flagged down by a member of the public and they discovered Mr Birch lying injured.
The officers had given him first-aid treatment but he died on the way to hospital.
Mr Perks said police wanted to hear from anyone who might have any information or who might have seen or heard anything in the Hinekura Ave, Rifle Range Rd, Hinemoa Ave area between 2.30am and 3.30am.
"We believe there are people out there who know who is responsible for this attack on this young man and we would just encourage those people to come forward."
Mr Perks said the pouring rain was a factor in their investigation and they were looking to preserve as much evidence as possible.
Senjo Security director Leon Rihia said one of his security guards and another staff member found the man on their way home from work.
The guard said the victim's girlfriend was "right there".
"He couldn't get nothing out of her. She was just standing there bawling her eyes out."
Mr Rihia said the security guard was also a personal trainer, so did what he could before ambulance staff arrived.
He described "heaps of blood" at the scene.
Another neighbour, Andie Hutchinson, said she hadn't heard anything.
She said it was sad to think the victim might have been lying there alone.
Anyone with information about the incident is asked to contact Taupo police on (07) 378 6060. Alternatively, information can be provided anonymously via Crimestoppers on 0800 555 111.
For more articles from this region, go to Rotorua Daily Post