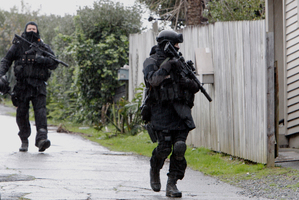 Pupils and staff at Kawerau kura kaupapa Maori school Te Whata Tau o Putauaki were told to stay indoors while armed police descended on two nearby houses after a shooting in the town this morning.
Police were focused on a Galway St property and a neighbouring house on Sewell St
It was understood at the time police believed a man was inside the Sewell St house.
A witness said police tried to make contact using a loud speaker for about an hour before entering the house.
A neighbour told the Rotorua Daily Post armed police stormed the Sewell St property using four smoke grenades.
The neighbour said it appeared no one had been in the house.
Police were also seen fingerprinting a dark sedan at the Galway St property.
No further details were available.
An employee at a local dairy said police had surrounded a house "a couple of corners away"and had let off smoke bombs.
She said the police had been around the area for much of the morning but she had only started to see armed police over the past couple of hours.
"They've been here for ages but didn't come out and show their guns until about 12pm."
"I did ask if we should close up but they said we are fine to be open."
She said anyone who left the area wasn't being allowed back in.
"It's a little bit exciting."
She said there were at least eight police cars in the street.
She said students at the nearby school were being kept inside.
Parents were being allowed to collect their children.
Police are speaking with a man over the double shooting in Kawerau.
Two men, aged 38 and 48, are in critical condition after being shot in what police described as a targeted attack at a River Road property about 6.15am.
They were taken to Waikato Hospital.
A car was seen leaving the scene of the shooting and police were seeking information to identify and find the vehicle.
About 9.45am police were also called to a property on Valley Rd after reports of a man with a gun.
It was understood a man from the property was later questioned by police and he was now helping with their enquiries.
Acting Area Commander Greg Standen said indications were that the two men were targeted by a group of people.
"We have nothing to suggest that there are fears for anyone else's safety at this stage. I want to reassure the community that we are across this incident; we have a large number of staff in the area and are confident that with the hard work of our team and the assistance from the public we can move towards an early resolution."
A cordon remained in place around the River Road address while a scene examination was being undertaken.
That cordon was expected to be in place for at least the rest of the day.
The Hamilton-based Westpac Waikato Air Ambulance and the Tauranga-based TECT Rescue Helicopter were called to the scene.
Staff from the TECT Rescue Helicopter said the 38-year-old received critical chest injuries, and the 48-year-old was in a critical condition with abdominal injuries.
Anyone with information is asked to contact Kawerau Police on 07 308 5255. Information can be also be given anonymously via Crimestoppers on 0800 555111.
For more articles from this region, go to Rotorua Daily Post