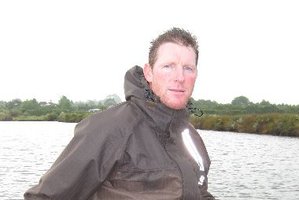 A Katikati sharemilker has admitted chasing and mowing down a black swan with a jet boat on Tauranga Harbour on Boxing Day last year and also causing distress to six others.
A sheepish-looking Carl Ian Williams, 36, pleaded guilty to two charges of wilful ill-treatment of an animal in Tauranga District Court yesterday; one of the charges is a representative charge.
The more serious of the charges attracts a maximum fine of $100,000 or up to five years' jail, while the other attracts a fine of up to $500,000 and 12 months' jail.
The ill-treatment charges relate to an incident on Tauranga Harbour on December 26, 2012, video-taped by someone on board the jetboat.
The court was told that on February 4 a CD-rom disc was delivered to Tauranga branch of SPCA on the basis that it contained footage of offences under the Animal Welfare Act.
The video footage, which was one minute, 49 seconds long, showed a high-powered alloy-hulled jetboat being driven by Williams at speed towards a group of black swans.
As he steers the boat towards the birds, some went under the bow. One of the swans was seen struggling in the wake of the boat before it disappeared under the water.
The remaining six swans were under significant distress as they tried to get away from the "unnatural threat" of the boat, the court was told.
Williams admitted to being the driver when he attended an interview at Tauranga SPCA on March 20 but said to the best of his knowledge no swans were killed or seriously injured.
Williams will be sentenced on October 3 in relation to the swan charges.
But he and an associate, Stephen Frederick Bowman, also from Katikati, have denied an additional charge of breaching the Animal Welfare Act which relates to the alleged inhumane shooting of goat in May 2011.
The charge stems from an allegation that Bowman shot the goat after it was thrown into the air, and Williams is charged as party by encouraging the activity and video-taping the shooting.
Williams and Bowman are due back in court on October 8 for a status hearing in relation to the later charge, while a warrant for arrest was earlier issued for a third man also charged in relation to the same matter.
Outside court, Tauranga SPCA animal welfare inspector Jason Blair said he was pleased Williams had admitted his crime without the need for a defended hearing.
"This intentional act resulted in serious harm to defenceless animals.
"It was a legal issue as well as a moral one for Tauranga SPCA, and the number of swans which suffered horrible deaths can only be estimated from this footage.
"I hope this prosecution serves as deterrent for others that animal cruelty will not be tolerated."
For more articles from this region, go to Bay of Plenty Times