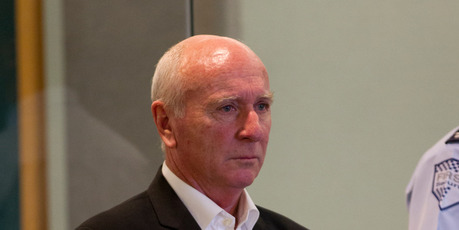 Rod Petricevic's fall from grace wasn't hard enough for some out-of-pocket Bridgecorp investors, and one is interested in civil action as a way of getting his money back.
Last night, the former Bridgecorp boss slept in a Mt Eden Prison cell after receiving 6 and a half years' jail time - the most severe sentence imposed on a New Zealand finance company director.
A source close to the case said Petricevic, who has been in custody since Easter, was likely to stay in Mt Eden at least until September when he faces a Serious Fraud Office trial.
He can be considered for parole after serving a third of his term - two years and two months).
The 62-year-old looked worried as he was sentenced in the Auckland High Court on 18 charges of misleading investors and making false statements.
Justice Geoffrey Venning said Petricevic's offending had a serious impact on Bridgecorp's 14,500 investors, who were owed up to $490 million when the company collapsed in July 2007.
The judge said Bridgecorp's former managing director had not accepted responsibility for investor losses and his remorse was not genuine.
"You may be sorry that investors lost their money but that is not true remorse," Justice Venning said.
An elderly investor who lost $2 million - including money from the sale of his home - in Bridgecorp said he "gained no solace whatsoever" from the six year, six month sentence.
"All us older people who invested our savings have got a life sentence of home detention," said the 70-year-old.
"He's got six and a half years of which he will probably serve half ... the only thing that will satisfy me would be capital punishment."
The man, who did not want to be named, said he would support a civil suit as a way of getting money back for investors.
"I'm not a solicitor but if civil action would get results, I'd certainly be in favour of it. The evidence is fairly conclusive so it should be a straight-forward procedure."
But Petricevic's lawyer, Charles Cato, said the former director was not in any position to pay reparations to investors.
Petricevic was until recently a bankrupt and had been living with his wife in rented accommodation before his imprisonment, Mr Cato said.
Another investor, William Brewster, lost upwards of $30,000 when Bridgecorp collapsed and said he would have liked a higher sentence for the convicted director.
Justice Venning read out a statement from a retired couple who lost $250,000 when the company collapsed, and said investors had suffered financially and emotionally.
"There is not a day they have woken up and not thought about it," the judge said. "It is the most depressing period of their lives."
Although Petricevic had not set out to cause harm, he deliberately made false statements to get people to invest in Bridgecorp when he knew the company was "in serious financial trouble", the judge said.
About $120 million was invested or reinvested in the company during the time of Petricevic's offending.
"If they [the public] had been told the truth they would not have invested," he said.
Crown prosecutor Brian Dickey said the case was a pinnacle of market fraud cases because of the nature of the lies told. Bridgecorp was still taking money when it was in such dire financial shape that it almost had become a Ponzi scheme, Mr Dickey said.
By Hamish Fletcher @hamishfletcher

Email

Hamish