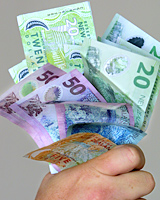 A woman may be able to keep a $1.2 million insurance payout from her back-from-the-dead husband's life policies because she appears to have made the claim in good faith thinking that he had genuinely died, an expert said last night.
In a bizarre case where a man faked his death, only to be found living under another identity in the South Island years later, questions have been raised as to whether his "widow" will get to keep the windfall.
The man, whose details have been suppressed, went missing in late 2002 after his car was found abandoned at a disused quarry at Port Waikato.
Last year, his wife had the High Court declare him legally dead and collected on his life insurance.
But the man was found alive in Christchurch after he applied for a passport under his own name for a trip to Australia. Police initially accused the wife of two counts of fraud, but reportedly now believe she was innocent and legitimately believed her husband was dead.
Investment, Savings and Insurance Association chief executive Vance Arkinstall said a legal battle over the $1.2 million was likely but the insurers could have "great difficulty claiming the money back off her".
"My expectation would be that if they've gone through the process and have taken all the various legal steps to meet the criteria and she's been paid that money in good faith and there hasn't been any fraud on her part, then I would imagine a claim would not be able to be made against her," said Mr Arkinstall.
"That's going to need to be sorted out ... If she hasn't been implicated in any way and it's gone through the court process and the various sort of probates have been released, then normally one would expect she would receive the money and that would be the end of it."
The police officer in charge, Detective Sergeant Dorothy McPhail, would not answer Herald inquiries into what the man had been doing in Christchurch or how his wife took the news, citing court suppression orders.
But the officer involved in the initial search said the man's "personal circumstances" could have explained his disappearance, although he would not elaborate on what these were.
Detective Sergeant Dave French of Counties Manukau police said he was surprised to learn the man was alive.
"We didn't know what happened to him and on the balance of probability it would have seemed he was deceased. But there was no conclusive evidence he had died and there was always that possibility he was alive."
The man faces two charges of fraud and one of dishonestly using a document, and has been remanded in custody to appear again on February 14.
His lawyer, Elizabeth Bulger, told Judge Raymond Kean he had had no contact with his family since the staged suicide and had not benefited from the insurance payout.
By James Ihaka

Email

James