Floodwaters and high winds kill seven in Britain and France while power cuts in Canada take deadly toll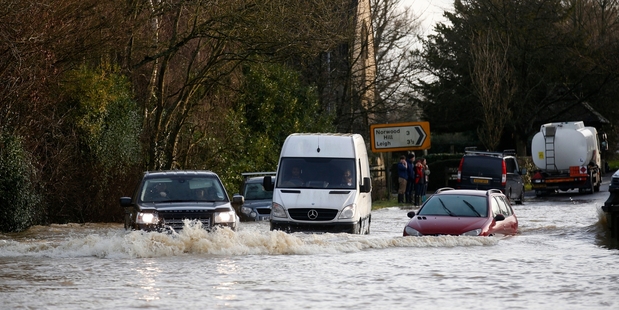 Gale-force winds and pounding rain have lashed Britain and France, killing at least seven people, disrupting Christmas travel and leaving tens of thousands without power.
A further five people in Canada are dead, likely from carbon monoxide poisoning, police said, as tens of thousands remain without power in below-freezing weather after an ice storm. In Toronto temperatures were set to plunge to -14°C.
In the United States, more than 500,000 homes and businesses were still without power in central and northeastern areas after an ice and snow storm rolled across the region.
A Russian sailor was feared dead after falling overboard from a damaged cargo ship off the northwest French coast about 220km from Brest. Rescue workers called off their search yesterday.
In another incident, Swiss sailor Bernard Stamm and Frenchman Damien Guillou were rescued from their racing yacht by a Norwegian vessel. Their boat had been damaged by huge waves and force 10 winds off the British coast, French maritime officials said.
A total of 185,000 French homes, mainly in the northwestern region of Brittany, were without electricity, according to power supplier ERDF. Britain's Energy Networks Association said engineers had restored power to about 420,000 homes, but 130,000 remained cut off.
Air, road and rail traffic was disrupted across France, England and Wales. Ferry services in parts of the northern Netherlands were disrupted and a number of buildings have been damaged, including the PSV football stadium in the southern city of Eindhoven.
Britain's Environment Agency has 276 flood alerts and 162 more severe flood warnings in place, almost 120 of which are in southwest and southeast England. The Highways Agency has warned of dozens of road closures and localised flooding.
The French weather service had put 23 of the country's 96 metropolitan departments on orange alert - its second-highest level - for high winds and waves. Yesterday the number affected had dropped to 16.
London's Gatwick Airport was expecting disruptions, with some flights likely to be diverted to other airports, and Heathrow Airport urged passengers to check flight details.
Flights to and from the French city of Lille were cancelled due to strong winds but resumed later. Some Channel ferry services have been halted as well as services between Scotland and Northern Ireland.
A man died in Devon, southwest England, after jumping into a fast-flowing river to rescue his dog, police said.
Two other Britons had died in swollen rivers, while there were two further deaths in car accidents linked to the bad weather. The severe weather also left a 12-year-old boy crushed to death beneath construction materials in Normandy, France.
- AFP, AP