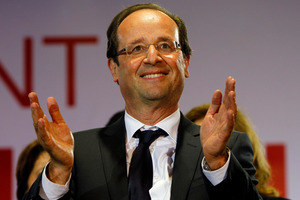 Francois Hollande will get an instant introduction to pressure-cooker politics next week when, as the freshly minted President of France, he strives to rally European leaders to his vision of economic growth without the pain of austerity.
The 57-year-old Socialist will have to placate the financial markets and his electors, both of them watching his every step.
Straight after his ceremonial investiture on Wednesday, Hollande flies to Germany, France's partner in the great European project. He then travels to the United States for the Group of Eight (G8) summit on May 18 and 19, and a Nato summit on May 20 and 21. He then rushes to Brussels for an informal dinner of European Union leaders on May 23, ahead of their scheduled summit on June 28 and 29.
Hollande's talks in Berlin with German Chancellor Angela Merkel will be closely scrutinised for the fate of his election pledge to ease the EU's austerity programme with a "growth pact". Merkel is keeping a courteous distance from Hollande, waiting until she gets more details about what this stimulus plan entails.
As Europe's paymaster, Germany led the charge to end the crazed borrowing that caused a string of southern EU countries to plunge into crisis and threaten to take the EU's single currency with them.
Germany has stumped up tens of billions of euros as part of an EU-International Monetary Fund package to keep Greece afloat in return for cutting state spending.
In Sarkozy, Merkel found a partner to push through a tough fiscal pact enshrining budget deficits and borrowing limits, which 25 out of the 27 EU members have agreed to adopt.
But the political winds have shifted. On May 6, just as Hollande was elected, general elections in Greece reduced the two mainstream Socialist and conservative parties to humiliated rumps and gave powerful voices to the anti-austerity ultra-left and nationalist right.
Markets are jittery and analysts are pessimistic, with some saying the chaos in Athens is a foretaste of Greece's ousting from the eurozone.
Other spendthrift economies, including Spain and Italy, could be the next dominos to fall.
"As long as political uncertainty continues, the Greek presence in the euro area in its current form could be seen to be at risk, in our view," Bank of America Merrill Lynch said.
In Germany, the opposition Social Democrats favour Hollande's plan, and on May 25 their votes are needed in Parliament for Merkel to get the required two-thirds majority to ratify the fiscal pact.
"One way of looking at this is that Mr Hollande's election is a blessing in disguise for Merkel. It gives her a pretext to set her policies on a gentler course," said Nils Diederich, a political scientist at Berlin's Free University.
Merkel has declared that the fiscal pact is non-negotiable. She wants nothing that leads to a pooling of debt and increased risk for the German taxpayer. But she does not rule out a growth package, provided the debt risk is circumscribed and the money goes on the right things - building motorways, airports and other old-time job-creation schemes are out. But money to support essential changes to an economy, to provide skills and technology, is possible.
"It is up to us to take the necessary decisions for the European Union and the eurozone, to prepare our societies for the future and protect and advance prosperity in a sustainable way," Merkel said in a letter to Hollande.
In the run-up to his big week, Hollande held meetings with European Council President Herman van Rompuy and the head of the eurozone's finance ministers, Jean-Claude Juncker.
"We will find a compromise. And I am convinced that things are starting well," said Pierre Moscovici, a close aide to Hollande.
Even as he undergoes his baptism by fire in foreign affairs, Hollande faces fierce tests at home. There are elections to the National Assembly on June 10 and 17, and the outcome is crucial for his presidency. Victory there would mean he would not have to share power with the conservative UMP party.
He also has to find ways of tightening the belt. To get France's budget deficit down to 3 per cent of gross domestic product by the end of next year, he will have to find €18 billion ($29.6 billion) of spending cuts. This did not rate a high mention on the campaign trail, which instead talked up creating tens of thousands of jobs in education and offering subsidies on payroll taxes for employers who hire youngsters and retain seniors.