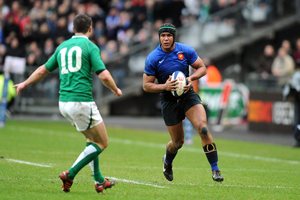 France might go into the Six Nations as joint favourites with England but they will tread warily on to the Stadio Olimpico pitch for their opener tonight (NZT). The last time they played in Rome, at the Stadio Flaminio two years ago, Les Bleus suffered their first defeat against the Azzurri of Italy.
"France are a great team but there's no doubt about the fact they have respect for us," Italy's captain, the Stade Francais No8 Sergio Parisse, said.
"In 2011, we beat them at Flaminio. We all know their individual qualities but we'll be going into this match with no fear, as we do every time."
France will have Thierry Dusautoir at openside flanker. The former French captain and 2011 World Player of the Year was rested for the Argentina tour and missed the autumn tests because of a knee injury.
Lock Pascal Pape retains the captain's armband while Maxime Machenaud's fine performances in France's wins over Australia, Argentina and Samoa have earned him another start at halfback, alongside Frederic Michalak.
The backbone of the team is the one that started the November tests, coach Philippe Saint-Andre said.
Dusautoir was not guaranteed a place in the starting line-up when he was called up in the initial 33-man squad but his work ethic has secured a spot.
"When we drew up the 33-man list, Thierry Dusautoir was not playing with Toulouse, so we had to wait until his last two European Cup and Top 14 games to assess his form," Saint-Andre said. "We saw during his preparation that he had worked a lot while he was injured. In Italy, we will need to defend a lot, so we will need his experience and ferocity."
As for the co-favourite tag going into the championship, Saint-Andre insisted complacency would not be an undermining factor.
"France were the favourites against Italy two years ago," he said. "It was a tsunami.
"We will have to be focused on this game now. We have won four matches in a row; let's make it five."
Saint-Andre insisted that France's priority was simply to get off to a good start in their opening two matches.
"We are going to divide it into two blocks: win in Italy and then the home game against Wales. Then we'll think about the rest afterwards."
- The Independent