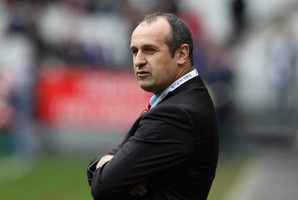 France will this morning try to beat the Pumas in Argentina for the first time since 1998.
Les Bleus have won only three of their last 10 tests against Argentina, but are hopeful the youthful side that has been selected with 2015 in mind can break the pattern in Cordoba.
The likes of Thierry Dusautoir, Imanol Harinordoquy and Nicolas Mas have been left at home for their first break in two years, while a number of fresh faces have been given a chance as coach Philippe Saint-Andrea begins rebuilding what was an aging side.
Saint-Andre says he has retained the skeleton of the side that won the Six Nations and that experienced core will be vital in what is one of the more hostile venues in world rugby. The French are also conscious that the Argentinians, with mainly domestic amateur players, disposed comfortably of a full-strength Italian team last week.
French preparations have been challenged by the fact they only played their club final last weekend. That match saw Toulouse and Toulon play 80 brutal minutes and that lack of preparation time as well as the associated fatigue could be a factor in the result.
Argentina have also injected some younger players, knowing their depth will be tested during the forthcoming Rugby Championship. They too have an older side and coach Santiago Phelan is likewise trying to find the next generation of Pumas.
If France win, it may lift them from sixth to fourth in the world rankings which could be critical for the World Cup draw. The top four teams in the IRB world rankings will be placed in separate pools for the 2015 World Cup and France would be keen to avoid being in the same pool as one of the three Sanzar giants.