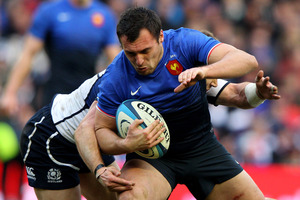 The dark shadow of a Portuguese soccer manager hangs heavy over two of the participants in this weekend's Six Nations internationals in the Northern Hemisphere.
The Stade de France, in Paris, and Dublin's Lansdowne Rd are not venues traditionally associated with the axing of rugby coaches and former Chelsea soccer manager Andreas Villas-Boas will be nowhere in sight.
But such is the craving for instant success in modern sport that it is a safe bet that if Scotland's Andy Robinson or England's caretaker coach Stuart Lancaster see their teams lose this weekend, Scotland against Ireland and England against France in Paris, then either or both could be out of a job within a few weeks.
Of course, rugby once sneered at the brutal commercialism of its noisy soccer neighbour. But today, professional rugby is aping professional soccer in increasing ways. Player loyalty is non-existent in both codes and patience with coaches is becoming very finely stretched.
Perhaps only Lancaster convinced himself he had a better than minimal chance of being appointed long-term England coach. But if England lose in Paris, following their home defeat to Wales, it is hard to believe the RFU will not look elsewhere for a permanent appointment.
It is true England have at least stabilised and found some discipline under Lancaster, but their rugby has, in the main, not been exciting. A dull, predictable product rarely earns its creator a long-term appointment.
France are not world beaters, as they reminded us in drawing 17-17 against Ireland in Paris last weekend. They are too maddeningly inconsistent for that, but the sight of the old Rosbifs at Le Stade this weekend should excite sufficient passion to get them home in this one.
They will have a new halfback pairing in Lionel Beauxis and Julien Dupuy, although it was Beauxis who missed two drop goals against Ireland that ought to have snatched victory.
Scotland, the arch under-achievers of northern hemisphere rugby will surely confront Italy in Rome on the final weekend for the dreaded Wooden Spoon.
Coach Andy Robinson said before the campaign began he did not want to preside over a consistently beaten Scottish team. But it is close to that and his long-term future in the role is again under the microscope.
Only one team can now land the Six Nations Grand Slam, Wales, and they have a home game against Italy, which should prove little more than a gentle workout to get them in the mood for their attempt on the Grand Slam, against France in Cardiff, the following weekend.