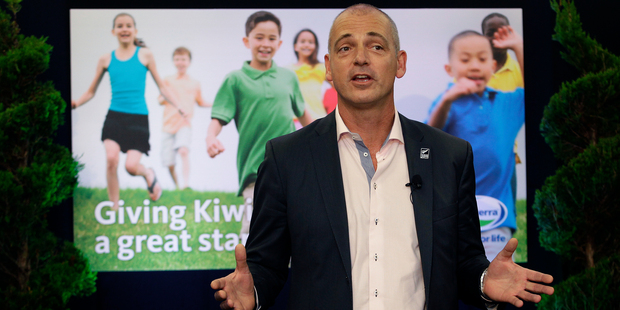 Fonterra HQ has gazumped moves by dissident shareholders to force another vote on the upcoming switch to trading among farmers by scheduling its own meeting on June 25.
Fonterra chief executive Theo Spierings sought board permission to seek a final mandate for "TAF" after suggestions that media-savvy shareholders had mustered the necessary 5 per cent of votes to call a meeting to air their objections.
This would have been highly disruptive to the staged process the Fonterra board has followed since it first promoted TAF as the long-term answer to the dairy company's drive for capital certainty.
There are obvious sensitivities at board level.
If the final vote is lost, there'll be egg on the face of high-profile farmer directors from chairman Henry van der Heyden down. A number of those directors are positioning themselves to be chairman when van der Heyden steps down in November.
The board decides who the chairman should be, but the decision does get ticked off by shareholders.
Spierings - who's been doing the rounds of fund managers in New Zealand, Australia and Asia - convinced directors that Fonterra would be better off to front-foot the issue rather than have minorities set the agenda.
What concerned Spierings was a growing perception among international financial analysts and fund managers that Fonterra didn't have a unified shareholding base, and the possibility this would spill over to prospective partners Fonterra is pursuing for joint ventures in Asia.
If TAF does not go ahead, the company would be forced to retain more earnings and lower its gearing ratio further to ensure balance-sheet strength.
But this would slow the international expansion programme which has only recently been announced in the "strategy refresh".
Spierings explained yesterday that Fonterra needed to talk to its "silent majority" as well as the vocal dissidents and ensure that the co-operative went forward in a united fashion rather than risk derailment.
Having a discussion while the foundation legislation for TAF was in front of a parliamentary select committee, and the "due diligence" assessment of the new market had yet to be completed, was a serious risk to the process.
But by June 25 "everything will be on the table".
Under Fonterra's constitution, it will have to send out any proposed resolutions and supporting documentation to its 10,500 farmer shareholders at least 21 days before the meeting.
At the June 25 meeting, the due diligence committee - headed by independent director John Waller - will talk farmer shareholders through their report.
Fonterra's government relations team will also brief them on discussions with the Government relating to the Dairy Industry Restructuring Act (DIRA).
It there are still some grey areas these will be spelled out to the meeting, which is taking place in multiple venues linked via satellite.
There will be a final resolution on whether to proceed with the TAF scheme. Fonterra clearly expects to get an overwhelmingly positive vote.
The next step will be to issue a prospectus which will be put in the market in September. There will then be a series of investor roadshows before trading starts in November.
Trading among farmers has been designed to free up Fonterra's balance sheet. The Fonterra Shareholders Fund will be set up instead of the present system of issuing and buying back shares directly, which poses a substantial redemption risk.
In June 2010, 89.85 per cent of farmer voters supported the resolution for TAF to proceed. But delays - including some issues around the DIRA - have allowed time for doubts to emerge.
Unfortunately for Fonterra's senior management, the final vote will be taken at a time when concerns have emerged over "foreign" encroachment in the local dairy industry.
Opponents of the Shanghai Pengxin acquisition of the 16 Crafar farms are scratching every possible itch to try and overturn the ministerial approval for the Chinese firm to acquire the farm assets.
TVNZ led its news bulletins on Saturday with a statement by Sir Michael Fay that New Zealand would lose around $15 million in earnings offshore every year from the sale of Crafar farms to Shanghai Pengxin.
It's a risible statement for Fay to make, given the mega-millions of dollars that poured out of New Zealand as dividends and special capital paybacks to the "foreign" investors his firm introduced as shareholders in former SOEs such as Tranzrail and Telecom.
The Fay statement is also laughable because it singles out the Chinese firm unaccompanied by any outrage at the Fonterra dividends flowing offshore to other "foreign" shareholders like Harvard University's endowment fund, or the many Swiss, German and Australian investors who are among the dairy co-operative's shareholders.
But the international-savvy Spierings makes it clear that Fonterra has no plans to treat its foreign shareholders any differently to its New Zealand farmer shareholders when it comes to the administration of TAF.
Unsourced news stories yesterday flagged so-called fears that Shanghai Pengxin would be able to gobble up shares once TAF goes into effect and emerge with a major holding.
In fact, Shanghai Pengxin will face the same restrictions as other Fonterra shareholders. Currently the shareholders can "share-up" to 120 per cent of production (farmers are required to buy one Fonterra share for every 1kg of milk solids).
Trading among farmers provides for that to rise to up to 200 per cent. But the "dry" share component does not have voting rights.
The Fonterra board is also conscious that for TAF to work there'll need to be substantial liquidity.
Hence there will be restrictions on the number of units outside investors can acquire. Fonterra also needs to front-foot the obvious misinformation which the undisclosed sources are spreading to news media.
It is damaging to the company and its own plan to introduce TAF - not just to its latest significant overseas shareholder.