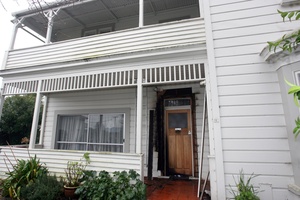 A fire at a Masterton child support service has been described as "sinister".
The blaze broke out about 4.30am today at the Open Home Foundation's Wairarapa office, on Lincoln Rd.
A passing security guard noticed the fire and alerted authorities.
Open Home Foundation chief executive Russell Martin said the fire had burnt through the front door of the building, which is used as an office for staff who provide child and family support.
No-one was there at the time.
Although it was yet to be confirmed, Mr Martin said the fire looked suspicious and it appeared an accelerant was used.
"It's fairly sinister, somebody had a sinister motive.
"It looks as though it was a deliberate act but we have got absolutely no idea who did it, or why, and that's a matter for police."
Mr Martin said the two-storey house, built in 1886, was made of timber and would have "gone up in flames pretty readily" if the fire had gone unnoticed.
"It's fabulous that it was saved, it would have been awful to lose it."
Mr Martin said the foundation would be looking at increasing security.
"We'll probably look at building a timber fence and putting in a lockable gate, just as a bit of added security, but ultimately if people want to get into a property it's pretty hard to stop them.
"I guess the police will probably keep an eye on the place," he said.
Mr Martin said the foundation had been in touch with their insurance company and would be assigning a builder to deal with the charred door.
Senior Sergeant Warwick Burr said detectives along with fire investigators were at the scene investigating.
Mr Burr confirmed the fire was being treated as suspicious.
Passerby Mike Mccarghy said he was the first person to notice the fire. He was walking along Lincoln Rd when he heard a crackling sound and looked across to see flames coming from the building.
He said he did not see anyone hanging around the fire.
"I guess whoever was responsible just lit the fire and took off down the road, there's not a lot of people around at that time," Mr Mccarghy said.
The Open Home Foundation is a Christian-based child support service which provides social work and foster care services to families in need of support.
For more articles from this region, go to Wairarapa Times-Age