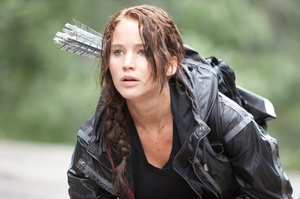 By now many of you will have seen The Hunger Games. Some of you may have even joined an archery club, given the apparent boom in popularity of the sport in the wake of the success of the film and the books it is based on.
I am not one of the hip young things who have joined an archery club. I haven't even seen the film - and probably never will unless it's raining one Sunday afternoon and it's on telly and I've got nothing better to do.
But it doesn't matter, because I've already been where 16-year-old Hunger Games' heroine Katniss Everdeen (played by Jennifer Lawrence) and her bow and arrow-toting friends (and foes) have been. I was a teenage archer.
Actually, it's a bit hazy these days, but I think I was about 10, or perhaps 11, when I first started taking archery seriously - and I loved it - for a few years at least, until I went on to something else expensive (I think it was cycling). Poor Mum and Dad.
But yes, I loved archery. I loved shining my aluminium arrows, placing them in my quiver, and then straining, almost doing myself an injury, to string the bloody bow. Hey, I was still a little tacker and those bows took some bending.
Archery was my passion. So much so that alongside Robert Smith from the Cure and the guys from Musical Youth (remember Pass the Dutchie?), the late paraplegic archer Neroli Fairhall was one of my childhood heroes. She won gold at the 1982 Commonwealth Games in Brisbane. With that cool, steely stare, her blonde wavy locks, and steady draw arm, it was tense I tell ya - but she came out on top. And then in 1984 she became the first paraplegic to compete at the Olympics in 1984, where she finished 35th but a champion nonetheless.
Archery is hard. I'm surprised I had the patience and attention span for it back then. I certainly wouldn't now.
Apart from hitting the target, preferably as close to the middle as possible, the hardest part is holding the strain of the bow as you try to aim the thing.
Not to blow my own trumpet, but I was pretty good at it, setting a national age group record with a barebow (that means not using a sight).
Traditional archery is also very concentrated and earnest, as you line up in a nice, orderly and quiet line and take aim at the targets placed strategically out in front of you.
Which is why I loved clout archery, which was a rare chance to let loose with your bow and arrows. Cool. The idea is to shoot your arrows into the air with the aim of landing them as close to a flag placed over yonder as possible.
Even better than clout was field archery - and this is where The Hunger Games come in. Basically you clamber around in the bush shooting at targets from a random distance - kind of like pig hunting with a bow, only the target isn't steaming at you, hankering for blood.
I was so inspired by field archery that I would set up makeshift targets around the grounds of my nana's sprawling garden.
Before there were such things as Xbox and PS3, it made for hours of warrior-like fun. I know I sound more like a 5-year-old than a young lad on the verge of his teens when I say that, but it really was a hoot.
Though I have to concede, I'm glad I didn't have any one shooting at me from behind a tree like in The Hunger Games. Honestly though, archery is the new cool. I'm off to polish my arrows and string my bow.
-TimeOut