McLaren teammates caught up in furious duel while Vettel romps to Bahrain victory.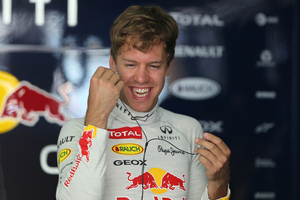 Seldom has Formula One known a season like it for internecine strife. After the rage at Red Bull came the melodrama at McLaren yesterday, as Jenson Button accused his team-mate, Sergio Perez, of "dangerous" driving following an extraordinary mid-race duel.
In an absorbing Bahrain Grand Prix, won in commanding fashion by Sebastian Vettel, Button was indignant at finding his car under sustained attack from the young Mexican, whom he angrily labelled as "too aggressive" and one of his manoeuvres as "dirty".
While team principal Martin Whitmarsh had urged Perez to display tougher racing instincts, the McLaren camp could never have expected a tussle as ferocious as this. With Vettel streaking into the blue yonder to cement a 10-point lead in the drivers' championship, Button and Perez were engaged in prolonged wheel-to-wheel combat from lap 27 as each toiled to assert his superiority over the other.
Button, for his part, was in little doubt that his 23-year-old stablemate had gone too far, shouting over his in-car radio: "He just hit me up the back, calm him down."
Whitmarsh, to his credit given last month's team orders controversies in Malaysia, was content to let the two adversaries fight. Having watched, alarmed, from the pit wall as his charges risked their cars, not to mention their friendship, he acknowledged: "There were a lot of people on the edge of the nerves. But I did not issue a team order to them. That is not the way we go racing, and you cannot change your philosophy."
He also explained that Perez, known at McLaren by his Latin diminutive 'Checo', had been reminded of his responsibilities in strong terms in the aftermath.
"The one thing I did not approve of was hitting your teammate," Whitmarsh said. "He overstepped the mark. I gave my view on that. But he is young and still learning. I would prefer to have to pull a racer back rather than push them forward."
Button was not about to forget the onslaught from Perez quite so easily.
Established as the senior driver at McLaren in the wake of Lewis Hamilton's departure, he was clearly affronted by the audacity of a driver a decade his junior, who arrested a dismal start to life at the Woking-based team by finishing sixth to Button's 10th.
"I was so angry and you have to be careful," he said. "Being in Formula One for so long, you learn how to control your anger, but you still get close to your limit and today was one of those days."
He added: "I'm not used to driving along a straight and having a team-mate coming alongside me and wiggling his wheels at me, and banging wheels at 300km/h.
"He touched me from behind and he touched me on the side going in a straight line at 300km/h. That's dangerous. I've had some tough fights in F1, but not quite as dirty as that. Something serious will happen soon, so he has to calm down."
On lap 32, where Perez damaged his front wing in a scrape with Button after they had banged wheels twice, the Briton protested to his team: "Come on, guys."
Even with the benefit of greater reflection after the race, he said: "He was too aggressive, I would say."
Perez, attempting to soothe the impression of increasing tension at McLaren, responded: "I think I was as aggressive as he was with me."
The superlative Vettel crossed the line eight seconds clear of the fast-finishing Lotus pairing of Kimi Raikkonen and Romain Grosjean.
Vettel, the triple world champion, said it had been a "beautiful" race, where the pace of his Red Bull never looked challenged once he had wrested the lead from pole-sitter Nico Rosberg.
- Telegraph Group Ltd