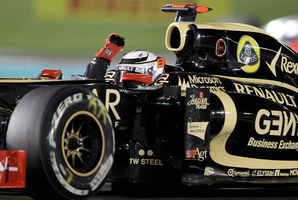 Kimi Raikkonen lived up to his "ice man" nickname by claiming his first win in three years as Sebastian Vettel clung to his championship lead in a drama-laden Abu Dhabi Grand Prix at the weekend.
Raikkonen, the 2007 champion who returned to Formula One this season after a two-year absence, grabbed his triumph after early leader Lewis Hamilton was forced into retirement after 20 laps by a power failure on his McLaren car.
The Finn won convincingly ahead of Fernando Alonso (Ferrari) who pushed hard for victory in the closing laps of an extraordinary contest that included two prolonged safety car periods and a rash of major accidents.
Defending champion and current leader Vettel started from the pit lane in his Red Bull and produced one of the greatest drives of his career to finish third. Vettel's phenomenal drive, including clocking the fastest lap, kept him 10 points ahead of Alonso in the title race with two races remaining.
Vettel leads on 255 points with Alonso on 245 and Raikkonen 198.
There was no change to the order of the top five as fourth-placed Mark Webber joined Hamilton on the DNF list.
Red Bull's Webber crashed out at three-quarter distance, caught in an incident sparked by three other cars. This was Raikkonen's first win since the 2009 Belgian Grand Prix and his 19th career win.
As the eighth different winner of the season he gave the Lotus name a victory for the first time since Ayrton Senna won for the original team in the United States in 1987.
The 33-year-old betrayed few emotions on the podium.
Asked how he felt, he said: "Last time you guys were giving me grief because I didn't smile enough, but I'm happy for the team. It's been a hard season and not easy times lately. Hopefully, this will give everyone belief and turn the tables so we can win more races, if not this year then next year."
Lotus chief Eric Boullier said: "It's a final reward for the team. We've deserved this for a long time. We had a little bit of luck. Kimi is good for everyone at Enstone (Lotus' UK home base) and good for the fans in F1."
-AFP