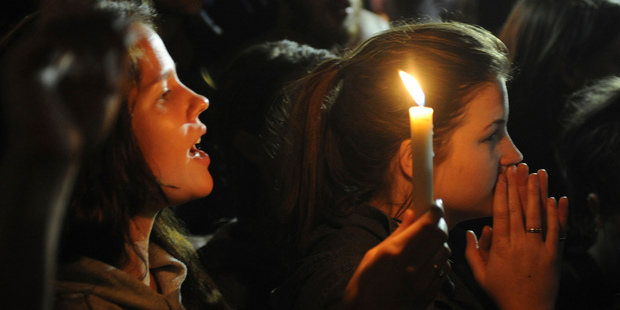 As a 10-day period of mourning is announced in South Africa for the death of their former leader and freedom fighter Nelson Mandela, world leaders prepare to travel to the country for his state funeral.
The country's first democratically elected black president will be buried in his ancestral village Qunu on the Eastern Cape Province on December 15, Radio New Zealand reported.
Leaders worldwide will attend the funeral, to be held in Pretoria, including United States President Barack Obama and his wife Michelle.
Prime Minister John Key will lead New Zealand's delegation to the funeral.
South Africa's current president Jacob Zuma has outlined a calendar of events to celebrate Mandela's life, the ABC reported.

They will culminate in the state funeral before his body is taken to Qunu for a family burial.
Tomorrow has been declared a day of prayer and reflection. A memorial service is set to take place in the 90,000 seat stadium that hosted the Football World Cup in Soweto.
Mandela's body will lie in state in Pretoria from next week.
South African High Commissioner in New Zealand, Zodwa Lallie, said Mandela's death had still come as a blow even though it was expected.

"He has really walked as a colossus across not only South Africa, but Africa and the world. So even through our sadness, through our loss, through our mourning, we also take time to celebrate and take strength and pride in having been so blessed as to have one as him as our president and as our leader.''
Mandela's famous quote about fighting both white and black domination was embodied in South Africa's Freedom Charter, which said the nation belonged to all who lived in it.
"For us that really will be the legacy,'' Ms Lallie said.

"Whether he is with us or is not with us, South Africa goes on as a united democratic country where all South Africans feel they are at home.''
She said spirits were low at the High Commission.
"We've been dreading it, but now that it is has come, it is quite a blow, even though we knew he wouldn't live forever,'' Ms Lallie said.
"We are bereft, we are sad, but also we are celebrating the life of a great man.''
The High Commission was yet to receive official instruction from Pretoria on how the death will be marked but planning would get under way for a memorial service in Wellington.
Ms Lallie said condolence books would also be made available in Auckland and Wellington from Monday.
• Read our full coverage on Nelson Mandela.
- APNZ