Chef Ben Batterbury will soon be showing an elite crowd of American foodies just what New Zealand cuisine is all about. Viva finds out how his nerves are holding up.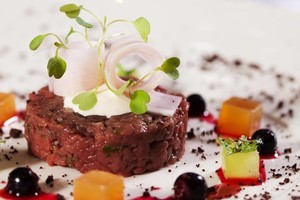 Sitting in the lounge of Queenstown hotel The Rees, with the snow-flecked Remarkables behind him, chef Ben Batterbury looks like a man with barely a care in the world.
But there is much on his mind, and it isn't tonight's menu for the delightfully intimate 40-seat True South restaurant one floor below which shares this exceptional outlook.
On May 19 he will present two seven-course lunch and dinner menus at the prestigious James Beard Foundation in New York, home base of America's most distinguished chefs and food writers. The three-hour Flavors of New Zealand lunch will be hosted by New Zealand consul general Paul Gestro, New Zealand chefs in New York will assist Batterbury, and the sommelier will be expat Jesse Webster of the renowned Public restaurant in downtown New York (which the 2011 Michelin Guide said was "the quintessential neighbourhood restaurant and the very definition of casual chic").
"It's daunting, and a big deal," says 32-year old Bristol-born Batterbury with a laugh which betrays confidence and uncertainty in equal measure.
"There will be 70 or 80 foundation members for the dinner and around 30 media and trade people for lunch, and I'll go over 10 days before to source ingredients.
"We are obviously promoting New Zealand produce and food - and wines - and it's surprising how much is available over there. But of course I have to meet the people I'll work with - and when I googled the [James Beard House] I just went, 'Oh wow!'."
The brownstone Beard House on West 12th St in Greenwich Village is quite spectacular - it was the former home of the late chef and food writer James Beard, credited with bringing French cuisine to Americans - and the foundation's annual awards are the Grammys for gourmets. But it is difficult to imagine Batterbury wouldn't rise to the challenge.
One of those kids who "never wanted to sit at a desk", at 16 he had the vague idea of being a photographer for a work experience option.
"But only one in a million make it, so I rang a Crown Plaza and asked if I could work in the kitchen for a week. Then I stayed on part-time when I was at [catering] college and in the kitchen we made everything. It wasn't gourmet, but it was fresh and the job gave me beer money while I was studying."
Instead of taking a third year, Batterbury went to Torquay for six months "in a real kitchen" and from there began moving up the chain until he was in charge of one of four restaurants in the exclusive Cameron House near Glasgow. There he met New Zealander Mark Rose, the hotel's general manager.
Rose had owned the famously friendly Cheers bar-cum-restaurant in Auckland for 12 years from '86 and went on to manage various exclusive resorts (among them Carrington Estate) before arriving at Cameron House.
"Cameron was very prestigious," says Batterbury, "and Mark used to hang out in our kitchen and when he came back to manage The Rees he gave me a call."
That was more than two years ago and Batterbury admits there were initially some challenges sourcing for menus and some of his staples were unavailable - "no foie gras" .
"Being so isolated [in Queenstown] in a sense means we have to order in advance, but the general standard of produce is better in New Zealand. Although, fresh vegetables here in winter?" he laughs.
He has become closely involved with the local community ("our best advertising is word of mouth"), and doesn't rate "pan-fusion crap where people take subtle flavours and ruin them".
In that he's in accord with the late Mr Beard who observed, "Good food cannot be made of inferior ingredients masked with high flavour".
It was because of Rose - who ate at the Foundation and suggested a New Zealand culinary journey - that Batterbury is now designing his menu for the Americans.
He could do worse than presenting the tasting menu we'd enjoyed in True South: locally sourced Gruff Junction goat's cheese with honey cannelloni, leek and truffle; a gently deconstructed chicken satay (free range of course); Nelson scallops with anchovies, fennel, orange and powdered scallop roe; Cardrona merino lamb neck and shoulder with aubergine and tomato ...
This was food to photograph as much as enjoy and after dinner Batterbury joined us for drinks and told funny stories of recent encounters in the meat-and-more-meat countries of South America where he'd just been for a mate's wedding.
He might be from Bristol, but New Zealand cuisine will be in good hands when it appears before New York's most critical foodies, writers and chefs.
Ben Batterbury's venison tartare with blackcurrants, gin and chocolate
Serves 4 as a starter
Venison
300g venison striploin or Denver leg finely chopped or minced
1/2 red onion finely chopped
2 Tbsp chopped fresh chervil
1/2 lemon
Salt, sugar and olive oil
Mix the meat herbs and onion together, season near to serving with salt, a pinch of sugar, a squeeze of lemon juice and a drizzle of oil. Reserve in fridge.
Blackcurrant vinegar
200g fresh or frozen blackcurrants
400ml cider vinegar
275g sugar
200g water
Cornflour mixed with cold water to form a paste
1 sprig blackcurrants, stems removed
Warm everything in a pan except the cornflour and the sprig of blackcurrants and blend in a liquidiser. Let the liquid drip through a clean tea towel to remove the fruit bits. Return this to a pan. Add the corn flour little by little to the vinegar to thicken to a thin syrup. Leave to cool and add the remaining blackcurrants.
Gin jelly
125g gin
250 g water
1 tsp juniper berries crushed or ground
1 lemon juice
2g agar agar powder
sugar to taste
Place all in a pan and bring to the boil while whisking all the time. Add the lemon juice and add the sugar to taste then pass through a fine sieve to remove the juniper and pour into a greased plastic tub and chill. When set dice into cubes.
To serve
Divide the venison between four rings and put on to a plate. Mix a little mayo with some horseradish sauce and spoon a little on top of the venison. Spoon around the blackcurrant dressing and place a few cubes of the jelly around. Finely grate some dark bitter chocolate all over the dish and serve with a cucumber and radish salad dressed with the blackcurrant vinegar and a little oil. Enjoy!