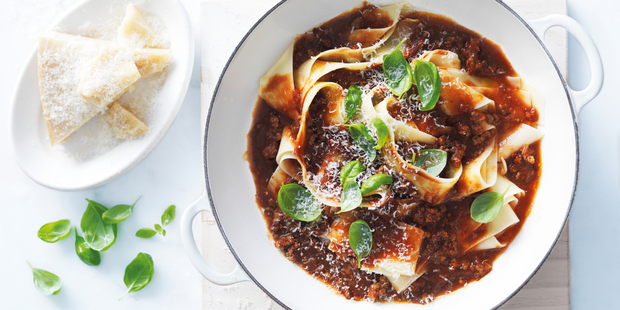 Bolognese sauce is well-loved for good reason. It's simple to make and rich with the flavour of veges and herbs, plus it has the cosy comfort of a true classic. There are many variations on the traditional recipe and here are three, each served in a different way. Try them as creative solutions for using up leftovers, or as a welcome change from regular spaghetti.
Serves 4
• 1 Tbsp extra virgin olive oil
• 1 onion, chopped
• 2 cloves garlic, crushed
• 1 tsp dried chilli flakes
• 1 Tbsp thyme leaves
• 500g beef mince
• Sea salt and cracked black pepper
• ¼ cup balsamic vinegar
• 2 Tbsp tomato paste
• 1 cup beef stock
• 2 x 400g cans chopped tomatoes
• 500g pappardelle
• Finely grated parmesan and basil leaves, to serve
1. Heat the oil in a large non-stick frying pan over high heat. Add the onion, garlic, chilli and thyme and cook for 3-4 minutes or until softened. Add the mince, salt and pepper and cook, breaking up any lumps with a wooden spoon, for 10-12 minutes or until browned.
2. Add the vinegar, tomato paste, stock and tomatoes and bring to a simmer. Reduce the heat to low, cover and cook for 20 minutes. Uncover and cook for a further 10-12 minutes or until slightly thickened.
3. Cook the pasta in a large saucepan of salted boiling water for 7-8 minutes or until al dente. Drain, divide between plates and top with the bolognese, parmesan and basil leaves to serve.