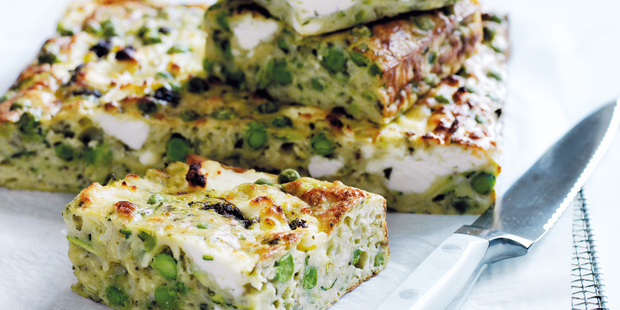 Packed into lunchboxes and picnic baskets, zucchini slice has always been a favourite of kids and adults alike. Simple to make, easy to eat (hot or cold) and perfect to freeze for a later date, it's not hard to see why this classic snack is such a staple recipe. These new spins on the traditional are super-tasty and just the thing for breakfast, afternoon tea or in-between!
Serves 8-10
• 1 Tbsp extra virgin olive oil
• 1 onion, finely chopped
• 2 cloves garlic, crushed
• 450g zucchini, grated
• 1 cup finely grated parmesan
• 1 cup self-raising flour, sifted
• Sea salt and cracked black pepper
• 6 eggs, lightly beaten
• 300g ricotta
• 1 ½ cups frozen peas, thawed and crushed
• 2 Tbsp store-bought pesto


1. Preheat oven to 200C. Heat the oil in a medium non-stick frying pan over high heat. Add the onion and garlic and cook for 3-4 minutes or until lightly golden.
2. Place in a large bowl with the zucchini, parmesan, flour, salt and pepper and mix to combine.
Make a well in the centre, add the eggs and mix to combine.
3. Fold through the ricotta, peas and pesto and spoon into a lightly greased 20cm x 30cm tin lined with non-stick baking paper. Bake for 25-30 minutes or until golden and a skewer inserted comes out clean. Allow to cool slightly and cut into slices to serve.


Tips and tricks
• This recipe is suitable for freezing. Simply slice into portions and place in airtight containers, separated with non-stick baking paper. Freeze for up to three months.
• To defrost, transfer portions from the freezer to the fridge, allowing them to defrost completely overnight before reheating in the oven or serving at room temperature.
• Zucchini slice is a great way to use up what's in the fridge. Use tasty cheese instead of parmesan and chopped ham instead of bacon. Stir through chopped herbs and substitute some grated zucchini for grated potato or kumara. Keeps in fridge in an airtight container for up to 3 days.
• One medium zucchini weighs around 120g.
Follow Life & Style on Twitter and Facebook.