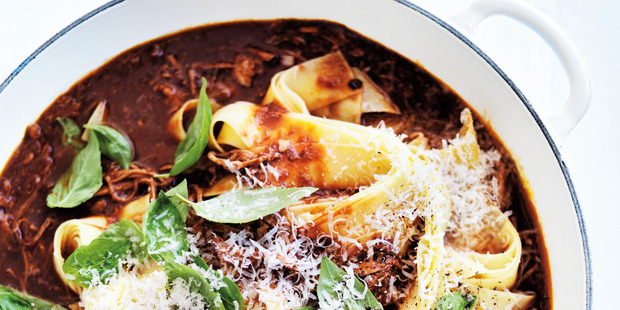 Ancho chillies are large dried peppers that are mild in heat and have a sweet, fruity, almost raisin-like flavour. This well-loved ingredient, hailing from Mexico, has rich, dark and smoky notes that give much of Mexican food its warmth and complexity.
Serves 4-6
• 1 Tbsp extra virgin olive oil
• 1.5kg boneless pork shoulder, skin off, cut into 2 pieces
• Sea salt and cracked black pepper
• 1 onion, chopped
• 3 cloves garlic, crushed
• 2 Tbsp tomato paste
• 1 Tbsp smoked paprika
• 3 medium dried ancho chillies, chopped (see tips and tricks)
• 1 Tbsp brown sugar
• 8 thyme sprigs
• 2 x 400g cans crushed tomatoes
• 3 cups chicken stock
• 400g pappardelle pasta, cooked (see tips and tricks)
• 1 cup basil leaves
• Finely grated parmesan, to serve


1. Preheat oven to 180C. Heat the oil in a large, heavy-based saucepan over high heat. Sprinkle the pork with salt and pepper and brown for 5-7 minutes each side. Remove from the pan and set aside.
2. Add the onion and garlic and cook for 2-3 minutes or until lightly golden. Add the tomato paste, paprika, chilli, sugar, thyme, tomato, stock and pork and stir to combine. Bring to the boil, cover and roast for 2-2 ½ hours or until tender. Remove the pork from the sauce and shred it with two forks.
3. Strain the sauce, discarding the solids, and return it to the saucepan with the pork. Serve the pork over the pasta and top with basil and parmesan.


Tips and tricks
• You can buy ancho chillies whole at specialty delis, as well as online spice shops and Mexican or gourmet food stores. To use, simply chop them or
rehydrate in water. Before chopping the dried chillies, remove the hard stem.
• To cook the pasta for the pork, place the pappardelle in a large saucepan of salted boiling water for 8-10 minutes or until al dente. Drain and serve.
• Ancho chilli barbecue sauce makes a great marinade or side sauce for ribs, chicken and beef. Keeps in fridge for up to 2 months.