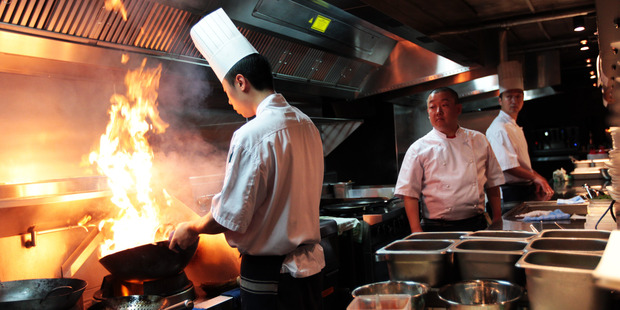 Verdict: Chinese with flair
I found a new best yum cha place in Auckland last week. No, of course I'm not going to tell you where it is. I don't want a whole lot of new people turning up there and spoiling it.
I like it just as it is: every face in the place is Chinese. I suspect some diners (not the very friendly management) assume I must be lost or wanting to use the phone but I'm hoping that, as time goes on, they will get used to me and treat me like any other round-eye (which is to say, hold the chicken feet).
What I like about it, apart from the terrific food, is the defiant lack of atmosphere. They do the basics: get a new cloth on the particle-board table and keep the food coming. You make your own tea and their idea of decor is a jar of toothpicks by the cash register.
At Mandarin, decor and atmosphere are very important. Cheshire Architects have created a space both dramatic and intimate, and intelligent use of lighting makes for a variety of table options.
It's an excellent addition to a lane that used to be a place for drunks to pass out in and drugs to be dealt but is now a hot little dining precinct within a stone's throw of Britomart.
The restaurant is the newest of many in town that are putting the ritz on the basics of Asian food. Japanese (Kazuya, Everybody's Izakaya, Masu, Morita) and Vietnamese (Cafe Hanoi and Mekong Baby) cuisines are well represented; Blue Breeze Inn serves Chinese with a Pacific accent and Mandarin mines the regional cuisines of Sichuan, Yunnan, Hunan and Xinjiang.
In eating out, as in any area of life, you get what you pay for. But I have to say that the siu mai at my yum cha place are every bit as good as the ones at Blue Breeze Inn and it's no accident that Barilla Dumpling in Balmoral (where good dumplings are $12 for 20) has long been a haunt of the city's top chefs.
This observation is not intended to denigrate what's going on at Mandarin, I hasten to add, where the food the night we ate there ranged from good to very good and the prices are far from extortionate. The dumplings, for example, at $6 for four, are economical finger food and a decent account of the menu will be about $40 a head without drinks.
It's easy to miss, tucked as it is below street level, but when we found it we were given a warm and sincere welcome and obligingly re-seated when we wanted a warmer spot further from the door.
I had thought Mandarin was a dumpling bar but closer inspection reveals that it describes itself as "dumpling and bar", whatever that means. It purports to be "steaming up the vibrant flavours of Chinese dumplings", but you wouldn't want to overstate the dumpling aspect of the menu. The night we were there they offered just five, although they were damn good. The pinkish beef and beetroot ones were my favourites, although the vegetarian option (egg, cabbage and spinach) were delicious too.
Mandarin follows the now-common practice of sending out dishes as they are ready, which I have to admit I find slightly annoying; it seems to me that it's not a big ask to pace the service. But as it happened, the so-called Buddha salad - a brightly astringent cabbage slaw with chilli and dates - worked well as a palate cleanser.
Dishes here are all sharing plates. The small ones average about $13 and the larger ones, at about $24, would make a reasonable main course for one.
The sweet fattiness of the Taiwanese pork sausage was offset by the pile of Japanese-style seaweed salad on top.
We loved the twice-cooked lamb ribs, which fell from the bone; the braised beef cheek, which tasted of five spice and was slathered over a large chunk of very tasty boiled daikon radish; and the fish with Sichuan pepper in an agreeably sour broth.
They don't do dessert, so we strolled down to Milse for dessert, which made the Professor very happy. I had a gelato stick, an epoch-making variant on the old TT2; I recommend the liquorice and pistachio.