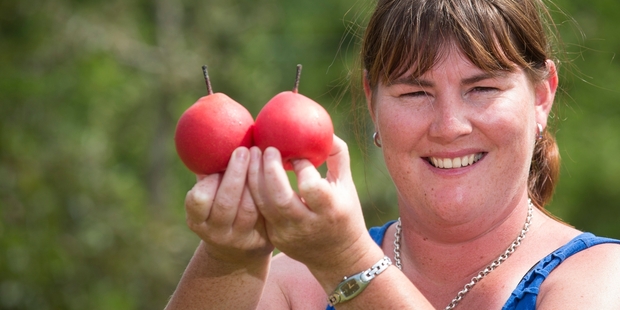 The future of New Zealand's fruit export industry has gone pear-shaped.
The first pear from a new range of New Zealand-harvested, hybrid fruits - piqaboo - has been unveiled in Hong Kong and will have its first commercial planting next year.
Plant & Food Research - creators of the jazz apple and the Zespri gold kiwifruit - has worked with Topfruit Development and Australasian marketing group Prevar on the release of the piqa range with the intention of producing innovative, high-quality cultivars.
Prevar chief executive Brett Ennis said the new pears were hybrids of the best attributes from west and east. "The piqa range of fruits fuse the best of the east and west together into an exciting and new range of pears - taking influence from the depth of flavour and rich tones of European pears with the convenience, crisp and juicy nature of Asian pears.
"The piqa fruits offer a wide range of superb flavours and striking skin colours."
Plant & Food Research's business manager Bill Kirkland has been instrumental in the development, while also busy with his wife's natural healthcare products, The Herb Farm.
Ennis describes the range of fruit as interspecific pears - conventional hybrid crosses of European, Japanese and/or Chinese.
"Piqa is a family brand name for all of the new fruits emanating from the Plant & Food Research (PFR) interspecific pear breeding programme.
"This breeding activity commenced in the 1980s and it's only just recently that PFR have obtained a range of very good cultivars that Prevar believes have a significant commercial future."
Each new fruit selection will be named with the prefix piqa, and its own individual suffix, starting with the commercialisation of piqaboo next year.
"Piqa is a made-up word. It is not a fancy acronym or a word from another language.
"We wanted a brand name that will be succinctly associated with the key brand message; that these new fruits will deliver an exotic and delightful eating experience," Ennis said.