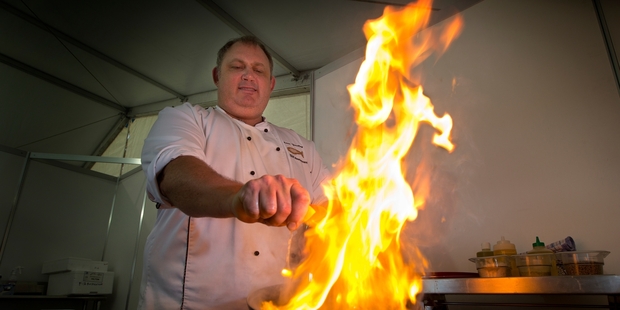 Ask any chef and they'll tell you stories about injuries in a busy kitchen to make you wince.
Tales of vats of hot oil, knives sharpened to skin-slicing razors and boiling water.
Shane Yardley of Fish Restaurant has had thousands of cuts in his career and many burns.
"Burns are the ones that get you," he said. "Once I went to light the hobs and the gas was on. I didn't realise, so when I lit it it went 'whoosh'.
"My boss came in and asked what the smell was, I didn't know what he meant until I turned around and he said, 'Where are your eyebrows?'
"I've lost my eyebrows a few times."
Other dangers were deepfryers and hot water. Mr Yardley said he had heard of people standing on benches to clean surfaces, and stepping back into hot oil.
Chefs at this weekend's Taste of Auckland festival swapped stories of accidents even as the Accident Compensation Corporation (ACC) released figures of how many New Zealanders are hurting themselves in the kitchen.
Hot chips, noodles and foreign objects poking into eyes account for some of more than 16,000 food-related injuries suffered by New Zealanders on average each year.
Since 2010 there have been 64,522 food-related accident claims at a cost of more than $17.7 million, ACC figures released to the Weekend Herald show.
Burns, cuts, dental injuries and objects injuring orifices and eyes were among the top causes, and hot chips, boiling water, noodles and cooking oil were among food items responsible for the claims.
An ACC official said the level of detail on claim forms made it difficult to paint a more descriptive picture of where the accidents occurred, but chef Des Harris from Clooney said injuries could happen in even the best kitchens.
"Buckets of boiling water is always a hazardous one, and slippery floors when they have been mopped."
He said fingertips were also a common casualty in commercial kitchens. "When they get distracted or something the fingertips are gone."
Juan Balsani of The Grove said sometimes the accident clean-up caused issues, too.
"I was once working in a hotel where a pot of oil caught on fire and the flames were right up to the roof. We were brushing the bread rolls and this guy came running into the kitchen with an extinguisher and he was dusting everything. Everything in the kitchen was full of the powder and it took eight hours to clean up."