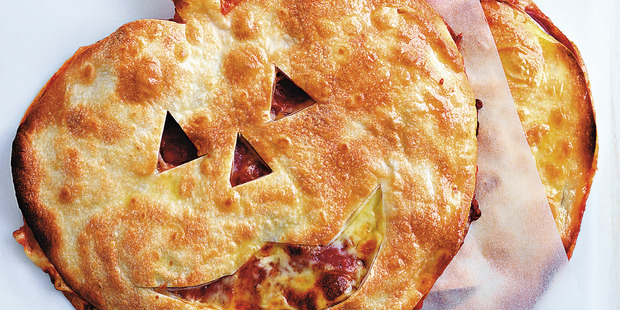 Makes 4
• 8 x mini flour tortilla wraps
• ⅓ cup tomato passata
• 2 cups grated mozzarella
• 120g thinly sliced salami
• Extra-virgin olive oil, for brushing


1. Preheat oven to 200C. Using a small sharp knife, cut each wrap into a pumpkin shape. Cut faces from 4 of the wraps and set aside.
2. Place the other 4 wraps on 2 large lightly greased baking trays lined with non-stick baking paper. Spread each base with 1 Tbsp of the passata and top with half the cheese. Divide the salami between the pizzas and top with the remaining cheese.
3. Sandwich the pizzas with the prepared pumpkin-face wraps and brush with olive oil. Bake for 10 - 12 minutes or until pizzas are crisp and golden.


Tips and tricks
• Pizzas make a fun school snack, wrap them in baking paper and pop them in a lunchbox.
• Sprinkle the pizzas with fresh herbs before topping with the second wrap, for extra flavour.
For more recipes visit the Donna Hay website, www.donnahay.com.