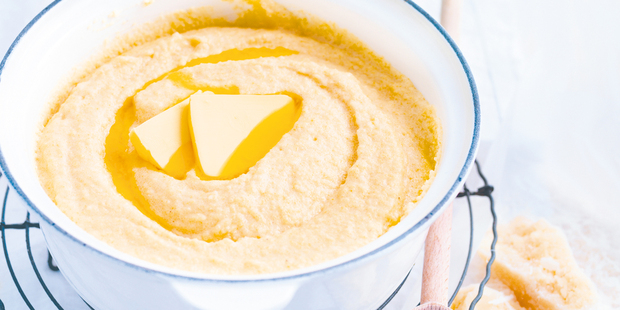 Soft polenta. Photo / Donna Hay Magazine
Serves 4
• 2 cups chicken stock
• 2 cups milk
• 1 cup instant polenta
• 50g unsalted butter, chopped
• 1 cup finely grated parmesan, plus extra to serve
• Sea salt and cracked black pepper


1. Place the stock and milk in a large saucepan over medium heat and bring to the boil. Gradually add the polenta and cook, stirring continually for 2-3 minutes or until thickened.
2. Remove from the heat, add the butter, parmesan, salt and pepper, and stir to combine.


Tips and tricks
• The trick to making extra-smooth polenta is to stir it continually while it's on the stove, getting rid of any lumps as it thickens.
• We've used instant polenta in these recipes, as it's simple and quick to make. If you wish to use regular polenta, follow the instructions on the packet, remembering it takes longer to cook.
• For a variation of flavours, stir different cheeses, such as pecorino or fontina, through your soft polenta. Most herbs work well, too - try adding oregano, thyme or sage.